Come Back Alive, a Ukrainian military equipment provider got BTC donations totaling $400000 in just 24 hours.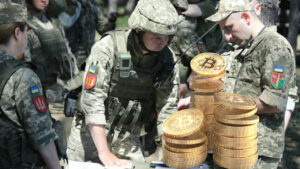 Ukrainian military equipment provider got BTC donations totaling $400000
People have donated $400,000 worth of Bitcoin to the Ukrainian nongovernmental organization Come Back Alive, according to Elliptic data. The latter provides the local army with military equipment, medical supplies, and training.
Cryptocurrency donations in support of the Ukrainian armed forces are soaring – with almost $400,000 received so far today.
Learn more about the crypto-crowdfunding of the Russo-Ukrainian War, in this recent @elliptic blog: https://t.co/aTRwTsOkTj pic.twitter.com/Wefb7jRRdW

— Tom Robinson (@tomrobin) February 24, 2022
An anonymous contributor also provided 80 BTC to a charitable organization assisting the Ukrainian army today (February 25). The value is nearly $3 million if calculated at current prices.
Over the last year, another Ukrainian business, Cyber Alliance, received around $100,000 in Bitcoin, Ether, Litecoin, and a mix of stablecoins. Digital asset donations to the Ukrainian military are on the rise, according to Tom Robinson, Chief Scientist of blockchain analysis firm Elliptic. Come Back Alive, a nonprofit foundation got almost $400,000 in bitcoin in just 24 hours.
Donors hoped to supply military weapons, drones, and medical supplies to the Ukrainian army with their contributions. Another goal is to create a facial recognition app that can tell if someone is a Russian agent.
"Cryptocurrency is increasingly being used to crowdfund war, with the tacit approval of governments," Tom Robinson added.
It's worth mentioning that someone donated almost $3 million worth of bitcoin to an entity backing Ukrainian soldiers earlier today (February 25).
Cyber Alliance is another organization that received a significant amount of funding. People have sent roughly $100K in Bitcoin, Ether, and other cryptocurrencies in the last year. The organization is made up of a collection of Ukrainian cyber activists who work to preserve Ukraine's online and combat Russian hackers.
Pro-Russian separatists, meanwhile, have been raising funding in digital assets since the crisis began. The total quantity of donations they have received is unclear.
Last year, volunteer groups in Ukraine collected more than $570,000 in Bitcoin. In comparison to 2020, this is a 900 percent increase.
Elliptic claimed earlier this month that "Bitcoin has also emerged as a major alternative fundraising source, allowing international contributors to bypass banking institutions that are restricting payments to these NGOs."
The war between Russia and Ukraine has a long history between the two former Soviet republics. Russia annexed the Crimean Peninsula from Ukraine in 2014, sparking a civil war in the country. Tensions reached a high earlier this week when Putin ordered a "special military operation" on the land of its neighbor, which appears to be the start of a full-scale invasion.
Many world leaders and public figures have spoken out against Russia's conduct. Vitalik Buterin, Ethereum's Co-Founder, was one of them. He backed Ukraine and labeled Putin's operation a "crime against the Ukrainian and Russian people."
If you find this article informative then do not forget to share it with your friends and family!
Also read: Everything You Need to Know About Steem Cryptocurrency