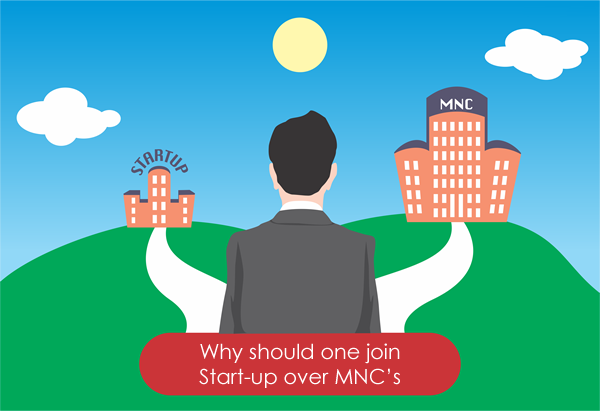 "5 years ago this heading would not make any sense to the majority of the Indian masses, interestingly 5 years later that is still the case, but at-least not with the upcoming urban youth of India and specially this youth which is most probable to make any significant difference in the country. With close to half a million jobs the big and small startups have produced, directly or indirectly by the June of 2015 and an ecosystem that is expected to be worth of (Put in some billions) climbing the ladder of being the 3rd largest eco-system in the world, India is now being ambitious, India is now dreaming and above all there is a belief in our ability of being able to create something unique and big, be it a global movement as Facebook. India's new start-up policy is WE CAN.
Let's look at the learning's working in a startup can give to you. This is not an article of comparison between a startup and an MNC as there is a unique energy source in both and with the set of learning's each can offer. We are just here to help you out in case you are confused
1.) Sense of Individuality
Do you want to be in a system of building processes or processes of established systems. The former can give you a sense of individuality without a doubt. You can go home every day thinking today, you made a significant difference in the company and that you matter and yes the company would be different had you not been there.
2.) The only HR policy is YOU
As the MNCs are governed by strict HR policies which not only dictates your dressing style, but also validates on the limited kind of work you are entitled to do, then start up HR policies are extremely customized and employee friendly, today's startups are moving towards a culture of even providing perks like unlimited vacations, welcoming quick decisions like maybe a notice period as short as a day and a joining date as soon as tomorrow and pay packages and perks which are skyrocketing. This whole new trend just makes it really pleasing for an employee to join a start up.
3.) Anything, but not 25 years to be a part of the top management
The most significant reason of working in a startup, especially the one's which have raised an earlier round of funding is that it just promises you a platform to go big with the company. Imagine being a part of the flipkart core team and that was what 8 years ago?
4.) A culture that complements our lifestyle
According To the NASSCOM report of 2014 on Indian startup ecosystem. 53% of start up founders are of the age between 26-35 years. 20% up to 25 yeas and only 5% more than 45 years old.
Question? What do crazy 25-26 year old with money, ambition, ideas and a running company do?
Ans: They create the most crazy work place possible. Today an office is a reflection of your ideology and the founding team comes from an ideology of we are own masters and they are creating the most comfortable office, with the best blend of luxury, lifestyle and happenings.
The environment is free, fun oriented, modern and deceptive. I remember, when I entered Limetray's office in East of Kailash, New Delhi. I was greeted with such an energy that then and there I wanted to work there and that is the case with almost every start up. From Zomato, Housing etc. the story is the same and for the beginners bean bags are compulsory.
5.) You want to understand Entrepreneurship
Apart from all the reasons mentioned above, there comes a reason bigger than anything..You truly want to do something that impacts the lives of millions, you want to start a movement while taking the thrill of failing to the pleasure of being big and you want to know how that boat is made because when you make your own boat you don't make a single mistake.
If you resonate with the reasons mentioned above and you believe they are something you are looking for, a strong recommendation is taking that leap of faith and even if things don't work out you will have a strong experience on how to get things done and that is what is enough for someone in her 20s."
---
About The Author :
The following post has been contributed by Vandit Jain on Jobspire and has been published on Techstory after mutual consent between Jobspire and Techstory. Vandit is running a blog, Ezcapeit, on solo traveling to inspire the same in the country.
(Disclaimer : This is a guest article and has been contributed on Techstory by a guest author. All images also have been provided by Jobspire. Techstory is not responsible and liable for this content.)