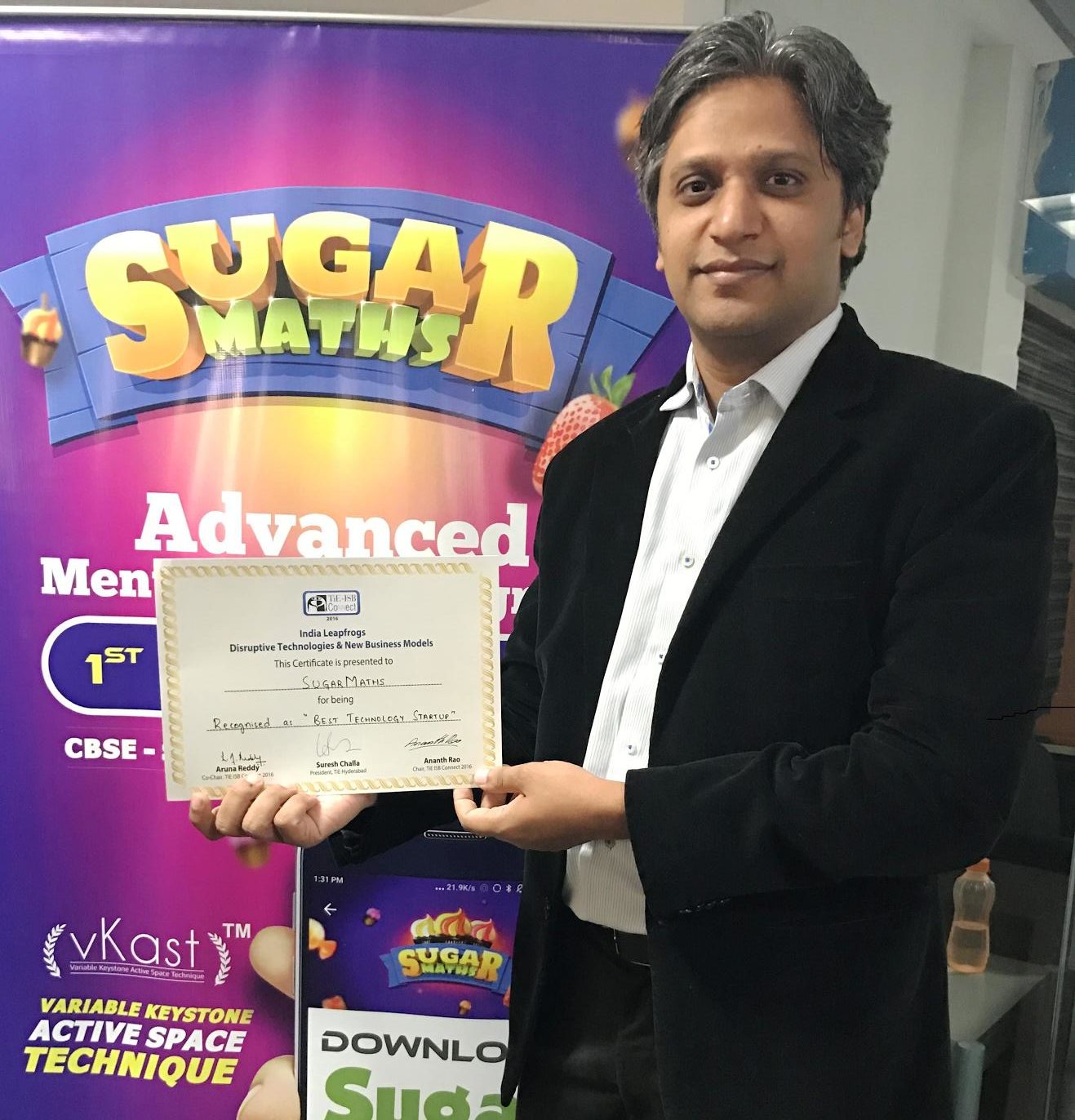 10 minutes a day math game for a super brain uses neuroscience of learning
India, November 6, 2016: Sugar Maths, a Hyderabad based Startup, announced that it has been adjudged as the Best Technology Startup at the TiE-ISB Connect 2016 held in Hyderabad.  'Sugar Maths' with its innovative approach of using gamification to make Maths appealing, is an Advanced Mental Maths Program for students of classes 1 to 10. It covers complete maths topics across CBSE, ICSE, State Boards and international curricula like IB/IGCSE. 'Sugar Maths' is a platform designed on proprietary Variable Keystone Active Space Technique (vKast). The "Sugar Maths" Mental Maths Program is based on the latest research in Neuroscience of learning and Psychology of motivation.
Commenting on receiving the award Mr. Neeraj Jewalkar, Founder of Sugar Maths said, "We are delighted to receive this coveted award for best use of technology for Sugar Maths. We have developed a proprietary methodology called Variable Keystone Active Space Technique (vKast) to improve learning. vKast is the synthesis of the latest developments in how various regions of the brain function to help learning and memorization. This technique not only leverages the concepts of Crystallized and Fluid Intelligence but also incorporates deep insights based on the psychology of motivation. Sugar Maths aims to make students take more interest in Maths, develop mastery and have an overall positive approach to this very important subject not only in academic life but also for personal growth."
Multi-sensory learning techniques have been incorporated for strong and lasting memory engrams. This ensures that the learning is retained for years without loss. Mnemonic techniques for instant memorization have been used as part of Maths Tricks. This aids quick internalization and recall of important mathematical concepts that provide a strong foundation for advanced Maths skills. All these exceptional features have been woven together in an extremely fun, engaging and addictive game format that has students addicted to this enriching App. Students are expected to stick to this 10 minute daily routine for the very best results.
Neeraj Jewalkar is the creator of vKast Methodology that powers 'Sugar Maths'. He holds a degree in Aerospace Engineering from IIT Kharagpur. He has spent 7 years studying and analyzing the latest research in Neuroscience of learning and Psychology of Motivation. vKast has been developed based on the applications of this research on learning outcomes especially for school going children of classes 1 to 10.