The hottest ticket in town for advertisers is officially sold out. Fox said Monday that in-game ads for Super Bowl LVII have all been sold. The big game between the Kansas City Chiefs and the Philadelphia Eagles takes place on Sunday.
The Super Bowl is advertising's biggest stage, with advertisers jockeying to get their products in front of the more than 100 million people that watch each year. Mark Evans, executive vice president of ad sales for Fox Sports, said a few ads went for more than $7 million for a 30-second spot. Most sold between $6 million and $7 million.
Last year's Super Bowl earned the "Crypto Bowl" moniker from the ad world thanks to a handful of catchy commercials that seemed to mark a coming out party for companies in the cryptocurrency industry.
FTX, Coinbase, Crypto.com and eToro each locked down spots for last year's game that are notorious both for their extremely high prices — $6 million to $7 million for a 30-second ad this year — and for boosting both established businesses and scrappy startups that do their best to leverage creativity to tickle and/or tantalize the massive viewing audience.
It's the stuff of legend, really. Apple's uber-dark 1984 ad (1984); the E-Trade Baby (2008-2013); Budweiser's Wassup (2000) Frogs (1995) and Lost Dog (2015) ads; Mountain Dew's Puppymonkeybaby (2016), and the list goes on.
Don't expect any of those companies to be back this year. FTX is bankrupt and under criminal investigation by federal prosecutors. Etoro, a multi-asset trading platform, confirmed that it would not be splurging on an ad this year, saying that while it continues to invest heavily in marketing, "we dial up or down specific channels based on many factors including market conditions."
Coinbase declined to comment. Representatives for Crypto.com — the company behind the ad featuring LeBron James telling his younger self to "call your own shots" — didn't respond to requests for comment.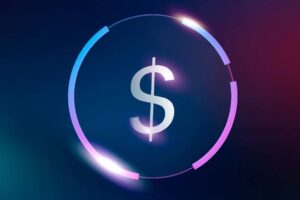 But there will be at least one crypto-adjacent newcomer. Limit Break, a blockchain-based game developer, has secured a spot and intends to give away around 10,000 NFTs, or non-fungible tokens (aka one-of-a-kind digital collectibles) to viewers who scan its QR code. Limit Break, founded in 2021, said it has already raised $200 million and expects to grow "a massive global audience."
Despite what is being called a "crypto winter," sports advertising remains a crucial avenue for the digital curency, marketing experts say, as their target demographics share significant overlap — sports fans and crypto traders tend to be mostly male and mostly young. But turmoil in the crypto space means marketers are changing their tactics.
"The tone has shifted towards Web3-driven fan engagement over crypto-specific advertising," said Silvia Lacayo, head of marketing at crypto exchange Bitstamp US. (Web3 refers to a future internet framework that is decentralized and gives consumers more control over their own data). "Crypto firms are focusing less on crypto advertising and more on investing in better user experiences, products, and customer service," Lacayo added.