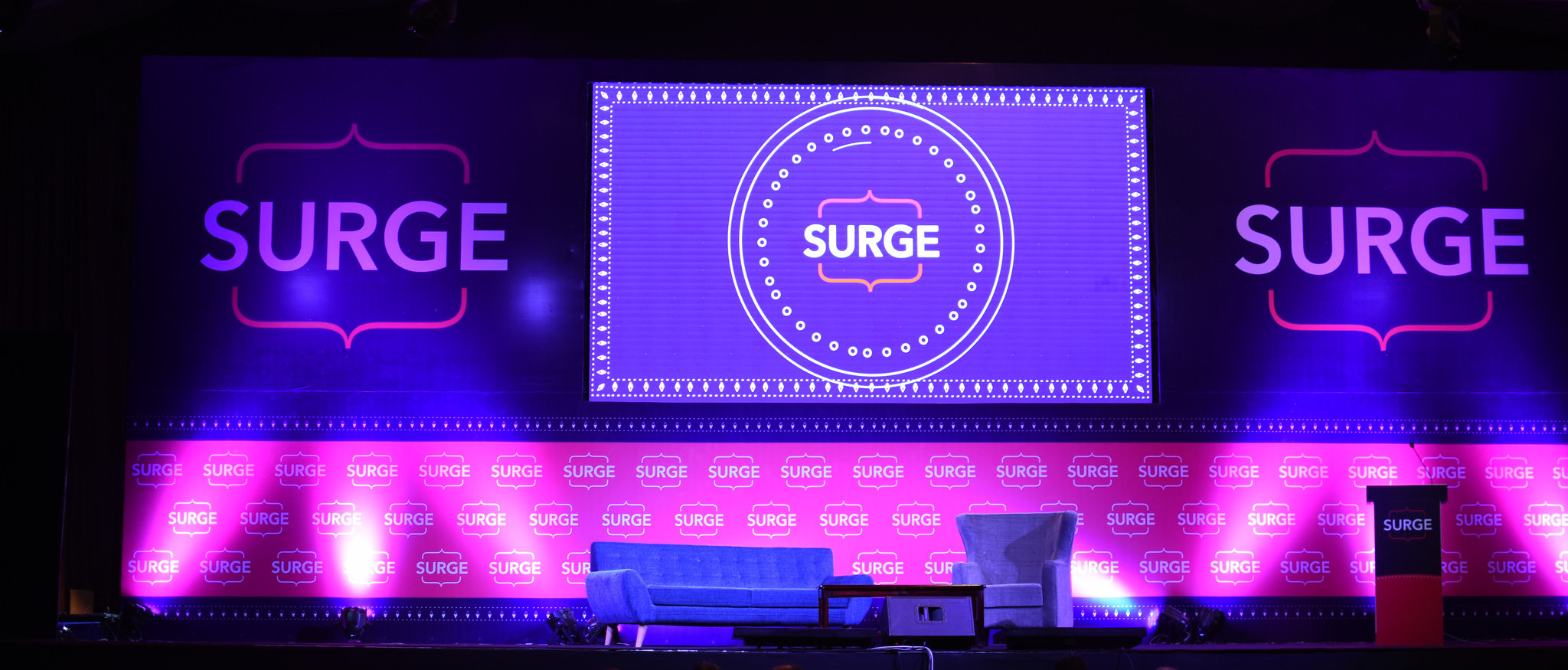 Surge Centre Stage
Surge Day One saw a huge list of startups pitching their ideas both on and off the platform. It was not just the Alphas (shortlisted for pitching) that were trying to market their product, even the attendees representing their startups were networking aggressively to make sure that their product is heard by as many people as possible. Networking is all about reaching out to people, be it consumers, clients, investors, media or attendees and networking done well is "marketing" indeed.
[box type="shadow" align="aligncenter" class="" width=""] Related Read:
Surge Expectations and Engagements From The Opening Ceremony !
[/box]
When you are present amidst 40 startup stalls, you definitely need to go to the extra mile for people to remember you post the meet. Here is a list of companies that have marketed so well (to me !), that made me write about them so that I don't forget them.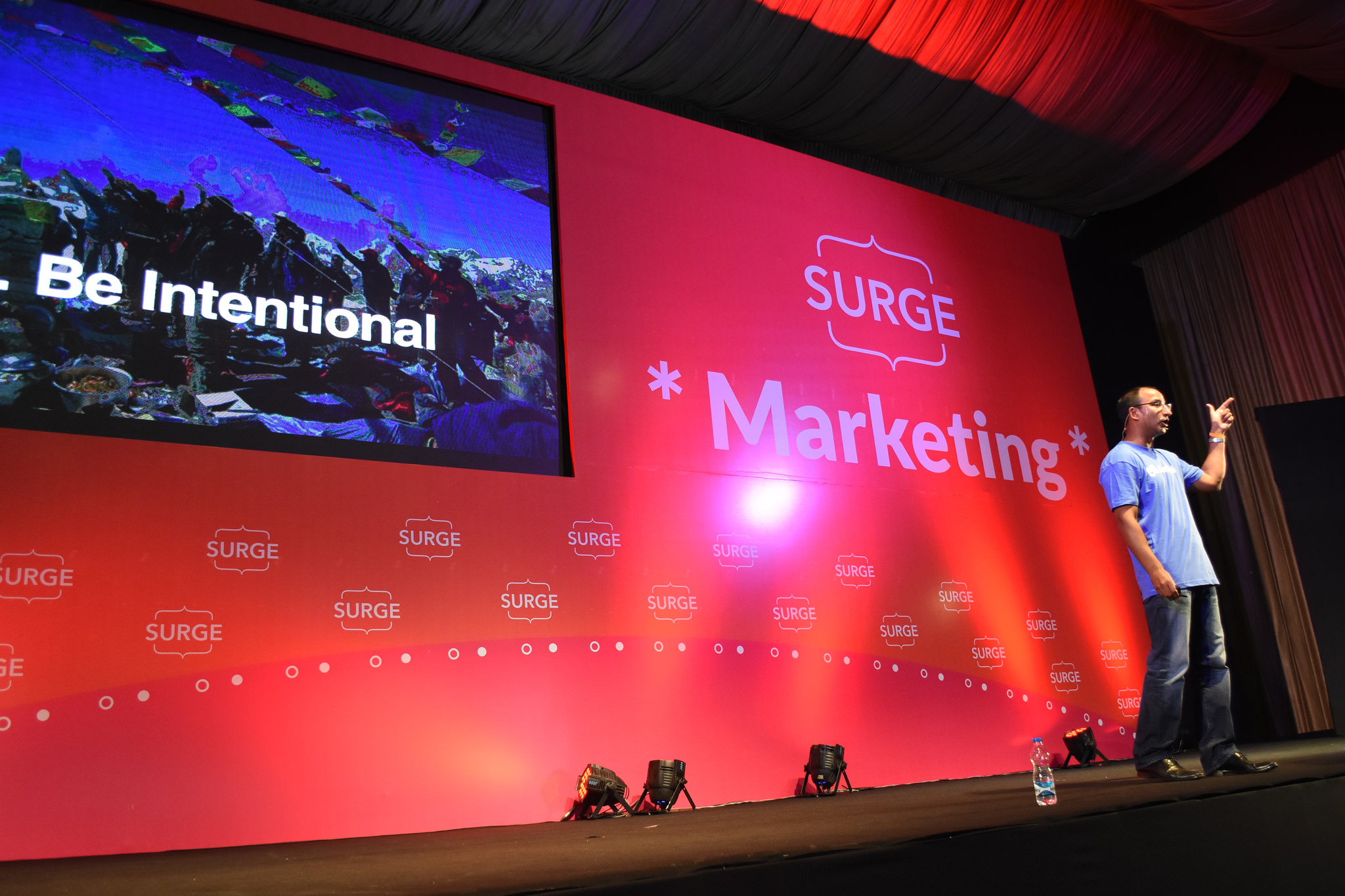 Surge Marketing Stage
Ather Energy
Undoubtedly, Ather Energy has to be mentioned in this list. They had their product launch and press conference today, and it was received fantastically amongst the crowd present. When you have India's first smart electric scooter presented live at the conference, then marketing is 95% done well, add videos that explains your product in detail takes care of the balance 5%. Freebies create memories for your consumers about you, but a floppy as a take away with an added quote "your vehicle too could become memorabilia", I'll leave you to write your opinion about it.
Arcatron Mobility
Another startup that had its product which people could check out for live and not just not on a computer. Arcatron, an attendant propelled wheelchair designed for senior citizens and individuals with limited mobility to access shower or commode in a secured and convenient manner. They had their wheelchair running around their stall controlled remotely and when you see an unmanned wheelchair moving, you'll automatically want to check out the product too !
Yelow
If you have attended Surge today, you might have obviously observed hand sanitizing machines placed through out the conference halls and on top of every machine you might have seen the name Yelow (a hello in yellow). When you repeatedly see a product and the Yelow written in the colour yellow at every corner you turn, you would definitely wanna hunt them down to find out about their product. That's exactly what I did, it was both difficult and easy to find their stall (their team had a yellow bow tie) and as a part of the promotion they gave a promo code for the product sign up !
Green Nerds
'Swachh Bharat' and the Green Nerds made sure that it 'Swachh Surge' today. In any event, where people market their ideas to others, you might've observed the huge trash of empty water bottles, because they are the very source that keeps presenters going (I was referring to the water, not the empty bottles). Keeping a next to every person is not possible, but what if you could keep a recycler machine in the venue. It was not just the machine that attracted the crowd to throw the empty bottles in them at least to check it out, but the candy incentive was extra fun to try.
 HOMBOT
A smart home technology startup, and it was not just about showing the product in a video. Amidst the conference lights, you see a series of mini bulbs switching on and off remotely, it was not just about controlling the regular features, but also adjusting the brightness of the bulbs. Although expecting them to control the entire conference hall is way high above my expectations, I was happy to check out Hombot live.
PepiPost
Mascots are always treated as the face of a company, college or any organisation for that matter. If your startup name has a mascot symbol in it, then what else would market your product better than the mascot himself. PepiPost a service based startup did exactly the same, they had their mascots showcasing their product and you feel that Surge has gone Disneyland.
OffiNeeds
If you have known about the half life period, even our learning has a half life period, certain information we tend to forget within a day. In a day filled with startup pitches and networking, a ten minute talk and business card exchange is not enough to make them understand the product/service. This was not a product demo, yet the one thing that made me list them was their book. Offineeds, As the name suggests, it was for office needs and it was all about reducing the indirect material costs, though they seem to unaccountable individually (the indirect material costs), they contribute a major share to the expenses and this was explained in detail in the book "9 Sure Fire Ways To Save Money On Your Day To Day Office Purchases"
JOBSPIRE
Jobspire, a recruitment platform that connects startups and candidates aspiring for jobs in startup segment in particular. They did have an unique marketing idea of having photo shoots with props for attendees and their formal business proposal notice hits you that they meant serious business. What more could be done at Surge for a startup that offers talent hiring facility to other startups? Oh yeah ! They were right at the epicentre of all their potential clients who are on the look out for quality candidates while scaling.
The event was not just about networking and pitching, there were brilliant speakers addressing the gathering on topics ranging from building an idea around a problem to marketing the end technology/product/service to the consumers.
[box type="shadow" align="aligncenter" class="" width=""]Related Read:
How Do You Grow From Zero Users To Million Users !
[/box]
P.S: The views expressed above is not in any particular order and it is not endorsing any product officially, hence not biased. It is solely expressing the opinions  from a first person's perspective. For updates on the speakers session on Day 2, follow Techstory's twitter account!
Image Source: Surge Conference's Flicker Account