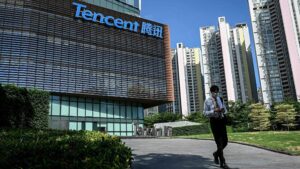 The largest internet firm in Asia, Tencent Holdings Ltd, disclosed on Monday that in 2022, it fired around 100 employees for breaching the law and company regulations, claiming things include suspected bribery and embezzlement.
The Shenzhen-based firm said in a post on its social media network WeChat that events covered more than 70 cases and spanned sectors as broad as live streaming, advertising, and video games, and that it had charged more than 10 individuals to law authorities.
The announcement comes after Pony Ma, the founder of Tencent, stated in a town hall last month that major "corruption" concerns had been detected within the firm and that incompetence was diminishing the firm's vitality.
For the majority of the last few years, Tencent has released a yearly report detailing the number and specifics of bribery incidents discovered within the firm. This has been carried out to encourage good transparency. These incidents often include bribery, theft, and cooperation.
In the most severe case publicly disclosed on Monday, Tencent stated that a person had taken money from some other firm and had subsequently been granted a three-year prison term. Prison sentences were also issued in six additional cases that were reported.
"There is an increase in the number of cases and people involved this year as compared with 2021," the firm said. "Tencent's anti-cheating investigation department has taken stronger measures against these internal issues such as corruption and cheating."
Tencent made public over 70 staff terminations as a consequence of more than 50 corruption allegations in January of last year.
About Tencent:
Chinese global technology and media giant Tencent Holdings Ltd. is a holding firm with its head office in Shenzhen. In terms of revenue, it ranks among the top multimedia companies around the world. In regards to investments, Tencent Games, a part of Tencent Interactive Entertainment Group (IEG) that focuses on releasing games, is also the largest video game firm in the world.
Its affiliates, which were formed in 1998, advertise a variety of Internet-related products and services worldwide, such as those connected to entertainment, artificial intelligence, and other technologies. Tencent Seafront Towers, also known as Tencent Binhai Mansion, is host to the firm's twin-skyscraper headquarters and is situated in Shenzhen's Nanshan District.
Comments
comments