Over the weekend, Tesla, the US-based carmaker, and Intel, the chip giant, presented their new business plans in China, showcasing the confidence of American companies in the nation. This comes as China, the world's second-largest economy, is intensifying its efforts to attract more foreign investment. According to Chinese experts, a significant factor driving these decisions is the well-established supply chain that China has developed over the years. Despite the rhetoric of some US politicians pushing for decoupling from China, US tech giants are actually increasing their investments in China, contrary to the prevailing narrative.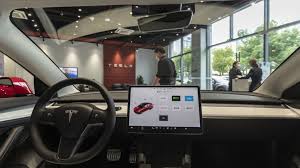 On Sunday, Tesla, the American automaker, revealed plans to construct a Megafactory in Shanghai. The plant will focus on producing the company's energy storage product, Megapack, and is slated to commence operations in the second quarter of 2024, after breaking ground in the third quarter of this year, as stated in an announcement sent by the company to the Global Times. The factory will produce 10,000 Megapacks annually, equivalent to roughly 40 gigawatt hours of energy storage, with these products intended for sale globally.
Production
Bloomberg reported that Elon Musk, CEO of Tesla, would be in China starting from Saturday and is expected to have meetings with local officials and participate in other events. This news came just days after Musk's mother visited China, who praised the country, saying that "Everyone Is Very Friendly."
According to Wang Jingzhong, the deputy director general of the China Battery Industry Association, Tesla is keen on investing in China because the country leads the world in the production and consumption of new-energy vehicles. "China has the most complete and mature supply chain for lithium batteries, ranging from raw material supplies to spare parts, which will provide Tesla with a competitive advantage in the global market," he told the Global Times on Sunday. Over the weekend, Intel, the US-based chip giant, held an opening ceremony for its integrated circuit business office in Sanya, located in Hainan Province in South China. This office will offer cross-border software and hardware product distribution and settlement, system integration, and talent training services to the Chinese market.
Gao Lingyun, an expert at the Chinese Academy of Social Sciences in Beijing, told the Global Times on Sunday that the expansion plans of Intel, Tesla, and other US companies demonstrate that the US-launched "decoupling" move is a false notion. This reiterates that these companies recognize the value and potential of the Chinese market, and are committed to investing in it.