Tesla's work on bringing some serious gaming to its infotainment systems is well known. Elon Musk had tweeted in the past about considering including advanced gaming in Tesla cars. Now, he replied under a tweet saying that Tesla made progress with Steam games integration. Added that a demo is to be released by next month.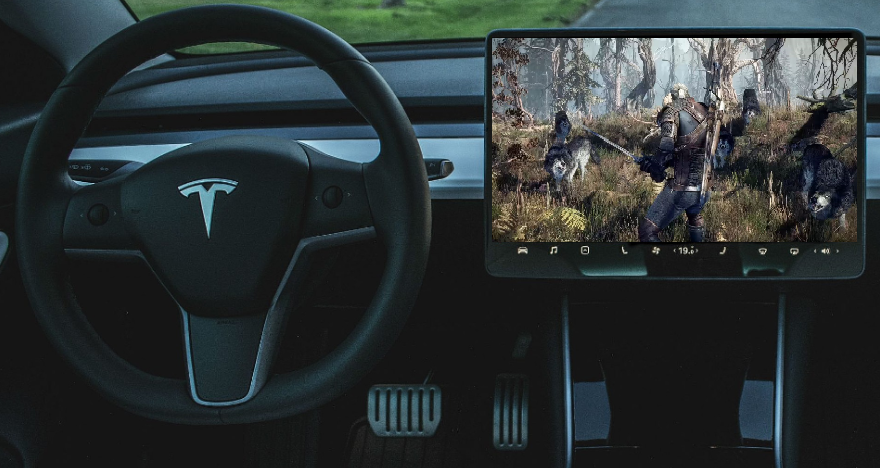 The company already offers a decent lineup of free-to-play games in its vehicles. There are games like Chess, Solitaire, and arcade oldies like Missile Command, and Super Breakout. Advanced games like Beach Buggy Racing 2 and Battle of Polytopia are also available for users to play.
Did you know your @tesla is a gaming console? My kids love the amazing games on our Tesla. Tesla makes a phone on wheels that gets better overtime. @elonmusk pic.twitter.com/RE56awoOlr

— Tesla Owners Silicon Valley (@teslaownersSV) July 15, 2022
However, last year in December, NHTSA disabled this feature for Tesla vehicles, as they launched further investigation into this. NHTSA had to find out whether the gaming will be a distraction for Tesla drivers or not.
Musk's promises to bring more modern and graphically impressive games to the platform have not come to fruition. The Tesla CEO demonstrated playing Cyberpunk 2077, released in 2019, on a Tesla Model S Plaid in June 2021 and claimed that the model's AMD graphics card offered "PS5-level performance." But as of now, Tesla's gaming library is restricted to games that require less processing power.
Steam games
Tesla could expand its game offerings by working with Steam. The digital storefront is the world's largest distribution channel for PC games, with one recent estimate giving the platform a 75% share of the $30 billion market in computer games.
In February, Musk tweeted that Tesla's long-term focus was "the general case of making Steam games work on a Tesla," rather than porting over specific titles. But Tesla may find it hard to test every game Steam offers on a Tesla, given that Steam's catalog now includes 226,000 games. Even Valve's own hardware offering—the handheld Steam Deck, released earlier this year—doesn't promise to run every game offered on the storefront.
Tesla has courted controversy with its previous attempts to make its cars a gaming device. Last summer, Tesla released an update that allowed passengers to play some of its games while the car was in motion.
Tesla suspended the "Passenger Play" feature, one day after the National Highway Traffic Safety Administration (NHTSA), the U.S. regulator responsible for enforcing safety standards for motor vehicles, announced an investigation into Tesla. The probe is ongoing, with Tesla submitting a partial response to the NHTSA in March. There is no further information on whether this is solved or yet to be solved. Possibly that is why Tesla is launching a demo and not the complete version.