The beginning of April means one thing: April Fool's Day. Every year, people across the world participate in pranks, hoaxes, and jokes, and this year was no different. From hilarious videos to full-fledged games, there were plenty of entertaining and clever pranks this year. Let's take a look at some of them.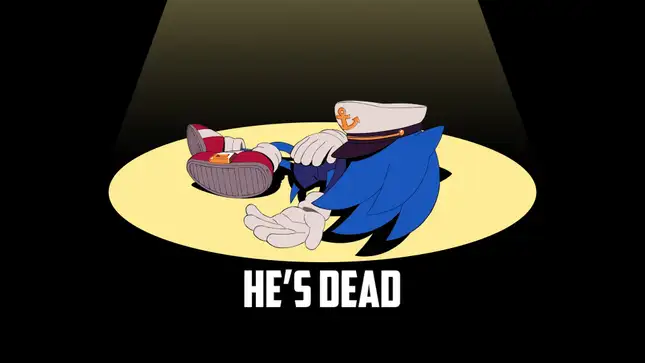 The Sonic the Hedgehog Twitter account teased a "new direction" for the beloved character on March 31st. However, it turned out that the new direction was not what fans were expecting. The Murder of Sonic the Hedgehog is a free, fully playable visual novel game on Steam that allows players to solve the mystery of Sonic's death. It's sure to be filled with Easter Eggs and clues, and it's definitely worth checking out.
The Sonic Social team proudly presents: The Murder of Sonic the Hedgehog!

A brand new Sonic game. Available right now. On Steam. For FREE! pic.twitter.com/qOsvdwCU2b

— Sonic the Hedgehog (@sonic_hedgehog) March 31, 2023
Blizzard is known for their frequent updates to their games, but this year's Overwatch 2 patch notes took things to the extreme. The notes detailed major changes to each character, such as Junker Queen's voice line being so loud it bursts eardrums and Reinhardt being able to fly. While these changes are unlikely to become permanent, they're definitely worth a laugh.
Say hello to flying tanks and spring-loaded kicks 🦶

Check out the VERY serious patch notes to see the updates to all our Heroes' ability kits in Arcade Mode only (for now) ✨

👀 https://t.co/i04TAxw51R pic.twitter.com/h5897MJQWg

— Overwatch (@PlayOverwatch) March 31, 2023
The team behind PowerWash Simulator has a history of creating clever crossovers, and this year's prank was no different. PowerWash Survivors is a game mode where players must spray down hordes of gnomes, eggs, and even angry-looking feces. It's only available on Stadia and Ouya, and the developers cheekily claimed that they were "coming for your BAFTA(s)."
PowerWash Survivors, coming soon💦 pic.twitter.com/pg6ngQd9U5

— PowerWash Simulator (@PowerWashSim) April 1, 2023
The Horsemates from Among Us returned for this year's April Fool's Day with a twist on the classic game. Horse Mode turns Seekers into Ranchers, and Classic Horse Mode adds a unique twist. Players must figure out who among them is the "imposter," and it's sure to be a hilarious and entertaining experience.
🐎 APRIL FOOLS IS HERE 🐎

YEEEEEEEEEEHAW!!

Crewmates are now Horsemates in both Classic and Hide n Seek game modes!

🤠 Horse Wrangling Mode: Seekers are now Ranchers, with new animation & music
🐴 Classic Horse Mode: Neighhh

This is only around until April 2, so ride on now! pic.twitter.com/wEj3OZTMTB

— Among Us (@AmongUsGame) April 1, 2023
Minecraft players are no strangers to voting on new features and changes, but Mojang took it to the extreme this year. The Vote Update sees players in a world of "endless voting," where even the smallest decision can have major consequences. Bugs and glitches are now "player-voted new features," and the world is at risk of being destroyed by the result of a vote. It's a funny take on the game's democratic system and is sure to keep players on their toes.
Revealing: The Vote Update

You love to make choices, so we're giving you the choice to make choices. 🫵https://t.co/YKodN2Iaum pic.twitter.com/sTurfYhpGs

— Minecraft (@Minecraft) April 1, 2023
Baldur's Gate 3 is set to receive a hilarious new feature when it launches in August. Players will have the option to play as a wheel of cheese, and the promotional video asks if they're "gouda enough" to take on the challenge. While it's unlikely to be a practical option, it's sure to be a hilarious addition to the game.
We've heard your feedback on cheesing encounters, and are proud to announce a brand-new way to play Baldur's Gate 3 😌 pic.twitter.com/lWpL8oXUvx

— Larian Studios (@larianstudios) April 1, 2023
Finally, PUBG players were in for a surprise when a giant chicken was added to the game. This terrifying creature not only stomps on players and breathes fireballs but also has glowing eyes that are sure to strike fear into the hearts of even the bravest players. It's a hilarious addition to the game, and it's sure to keep players on their toes.
Ever dreamt of having superpowers? Grab your superpower using OP Coin and get ready to dominate the Battlegrounds in Bizarre Battle Royale.#PUBG #BATTLEGROUNDS #BizarreBattleRoyale pic.twitter.com/xb1Jlktn3i

— PUBG: BATTLEGROUNDS (@PUBG) April 1, 2023
In conclusion, April Fool's Day never fails to bring out some of the best pranks and jokes on the internet. From Sonic's murder mystery to PUBG's giant chicken, this year's pranks were entertaining and clever. It's always fun to see what developers and creators come up with, and it's sure to be a tradition that continues for years to come.