Swed House, a Belarusian furniture company that imitates the style of Swedish furniture giant IKEA, opened its first store in Moscow with a mixed response from customers.
This comes after IKEA halted all retail and production operations in Russia due to Moscow's military operation against Ukraine, along with other Western companies.
Swed House's general director, Mamedali Kasymov, stressed that his company has its own brands and products, and that they aim to emulate IKEA.
While they do sell original IKEA items, these account for only around 15% to 20% of their range, and they have not faced any legal prohibitions in doing so. According to Kasymov, their own Swed House goods are also in high demand, and the store was packed with customers.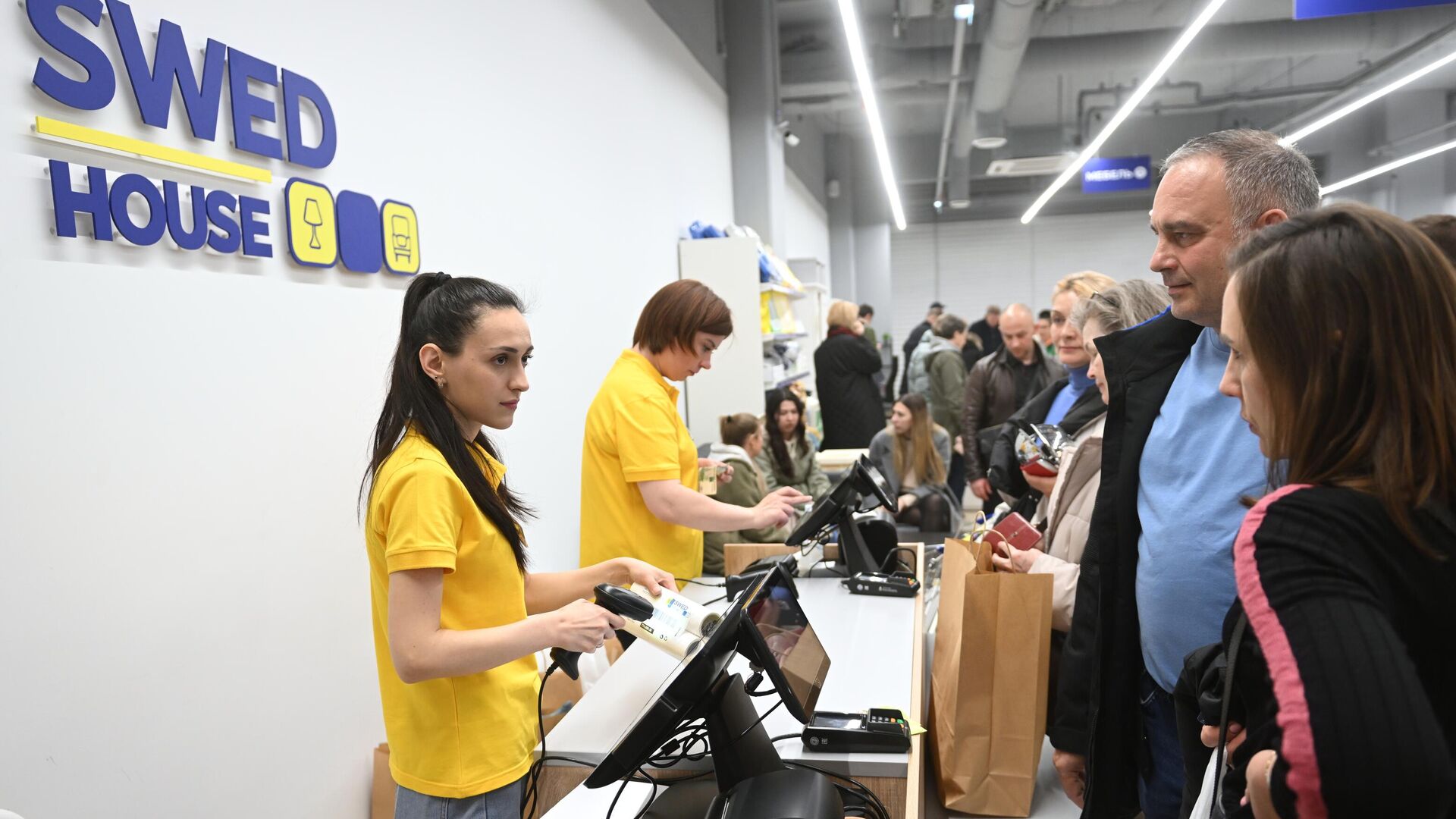 This situation raises questions about the impact of geopolitical tensions on the global economy, and the opportunities that arise for smaller companies to fill the void left by larger ones. It also highlights the importance of brand recognition and the power of imitating successful business models, as Swed House seeks to capitalize on the popularity of IKEA's products.
Ultimately, the mixed response to Swed House's entry into the Russian market suggests that consumers are receptive to alternatives to IKEA, but the success of such alternatives remains uncertain.
Inside the Swed House store, customers who did not provide their last names had varying opinions. Natalia expressed missing IKEA and viewed the new store as a positive start.
On the other hand, some customers found the premises too small and expressed dissatisfaction with the product placement. Iohann pointed out that IKEA had a distinct approach to displaying products, with beds available for testing and furniture arranged in a specific manner. He suggested that Swed House needs to improve in this area to succeed.
Moscow welcomes Swed House
Swed House plans to open five stores in Moscow malls initially and expand into other regions of Russia next year, according to Kasymov. IKEA briefly resumed online sales in Russia last summer and still operates 14 MEGA-branded shopping malls in the country.
These developments reflect the competitive environment of the furniture industry in Russia and the challenges that Swed House may face in establishing itself as a successful alternative to IKEA.
The Russia-Ukraine war is likely to have significant and far-reaching impacts on private industries, not just in Russia and Ukraine but also in other countries. The ongoing conflict has already led to economic sanctions and trade restrictions imposed by Western countries on Russia, causing disruptions in global supply chains and affecting businesses operating in the region.
In addition, the geopolitical tensions and uncertainty have created a challenging business environment, with companies facing risks related to security, regulation, and investment.
The situation is likely to have different impacts on different industries, depending on their level of exposure to the conflict, their dependence on Russian or Ukrainian markets, and their ability to adapt to changing circumstances.
For example, industries such as energy, agriculture, and transportation, which have close ties to the region, are likely to face significant disruptions and challenges. On the other hand, industries such as technology and e-commerce may be less affected, as they operate in more globalized and digitally-enabled environments.
Another potential impact of the Russia-Ukraine war on private industry is the emergence of new business opportunities for companies that are able to fill the gaps left by the withdrawal of established players.
For example, smaller companies like Swed House may be able to gain market share by offering alternative products and services in the absence of larger competitors like IKEA. Additionally, new industries may emerge as a result of the conflict, such as those related to rebuilding and reconstruction efforts in affected regions.
Overall, the impact of the Russia-Ukraine war on private industry will depend on a range of factors, including the duration and intensity of the conflict, the effectiveness of international sanctions and other policy measures, and the ability of companies to adapt to changing circumstances and capitalize on new opportunities.