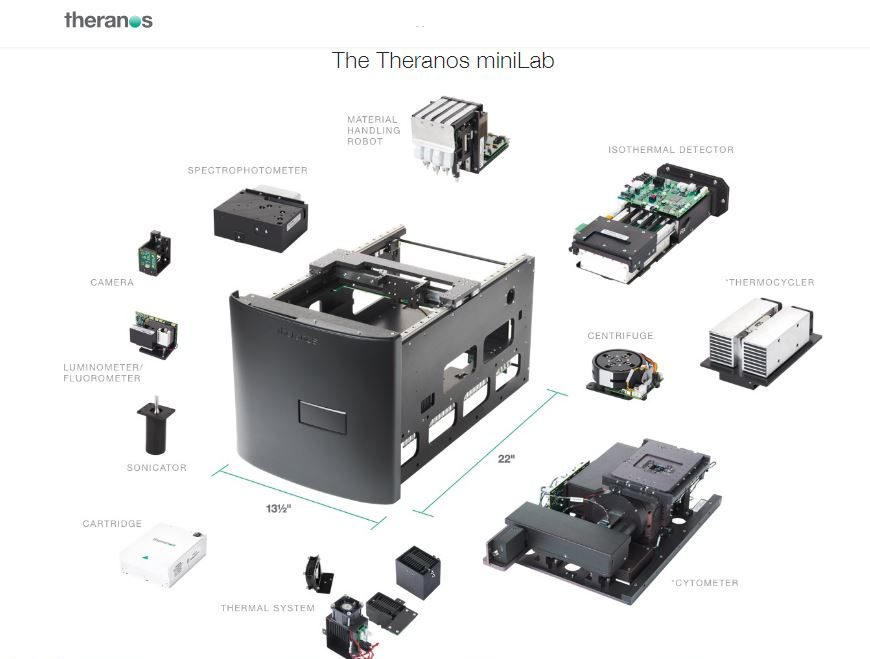 After series of lawsuits and controversies, Elizabeth Holmes, CEO of Theranos, decides to close down the company's wellness centres and clinical labs to focus majorly on the miniLabs technology.
The company rose to fame, when young Elizabeth Holmes decided to take on the medical industry by storm with the company's innovations. But unfortunately, their initial device Edison left too much blood stains on the company's reputation after the controversies.
Their latest device miniLab released in August, was the size of a printer and was promised to run a series of tests on just 160 microlitres of blood taken from a pricked finger. Here is the exploded view of the miniLab.
The once $9 billion valuation company, had a series of downfalls and the latest blow is that it has decided to close down all of its other operations and focus its undivided attention towards their miniLab platform. Although, miniLab is expected to revive the company's brand image, the decision was made after sacrificing employment of approximately 340 resources.
Related Read: Theranos Moves Past the Controversy, Launches New Blood Testing Device
In a letter to the company's stake holders Elizabeth Holmes explained the decision,
For our stakeholders,
After many months spent assessing our strengths and addressing our weaknesses, we have moved to structure our company around the model best aligned with our core values and mission.
We have decided to close our clinical labs and Theranos Wellness Centers, which will impact approximately 340 employees in Arizona, California, and Pennsylvania. We are profoundly grateful to these team members, many of whom have devoted years to Theranos and our mission, for their commitment to our company and our guests.
We will return our undivided attention to our miniLab platform. Our ultimate goal is to commercialize miniaturized, automated laboratories capable of small-volume sample testing, with an emphasis on vulnerable patient populations, including oncology, pediatrics, and intensive care.
We have a new executive team leading our work toward obtaining FDA clearances, building commercial partnerships, and pursuing publications in scientific journals.
We are fortunate to have supporters and investors who believe deeply in our mission of affordable, less invasive lab testing, and to have the runway to realize our vision.
I look forward to sharing more with you as we progress along the way.
Sincerely,
Elizabeth Holmes
Times like these are common in most startup journeys, and Theranos seems to be stuck in this phase for far too long. Although experts state that miniLabs is nothing but a "lab on a chip", which has already been done; Theranos really does not want it to be the tag for its miniLabs. Lets hope this "undivided attention" helps both the company and miniLabs to truly achieve its potential.
Check Elizabeth Holmes interview on how she envisioned her company before all the controversies surrounded her.