The U.S. stock indexes finished slightly higher on Wednesday, led by the tech-heavy Nasdaq Composite, as investors reacted to positive retail sales data after Tuesday's inflation report, which suggested that the Federal Reserve may need to raise interest rates higher than previously thought to combat inflation.
The Dow Jones Industrial Average gained 0.1%, the S&P 500 rose 0.3%, and the Nasdaq Composite advanced 0.9%. On Tuesday, the Dow Jones Industrial Average fell 0.46%, the S&P 500 declined 0.03%, and the Nasdaq Composite gained 0.57%.
The surge in retail sales by 3% in January, the biggest increase in almost two years, supported the idea that the Fed can remain aggressive in fighting inflation.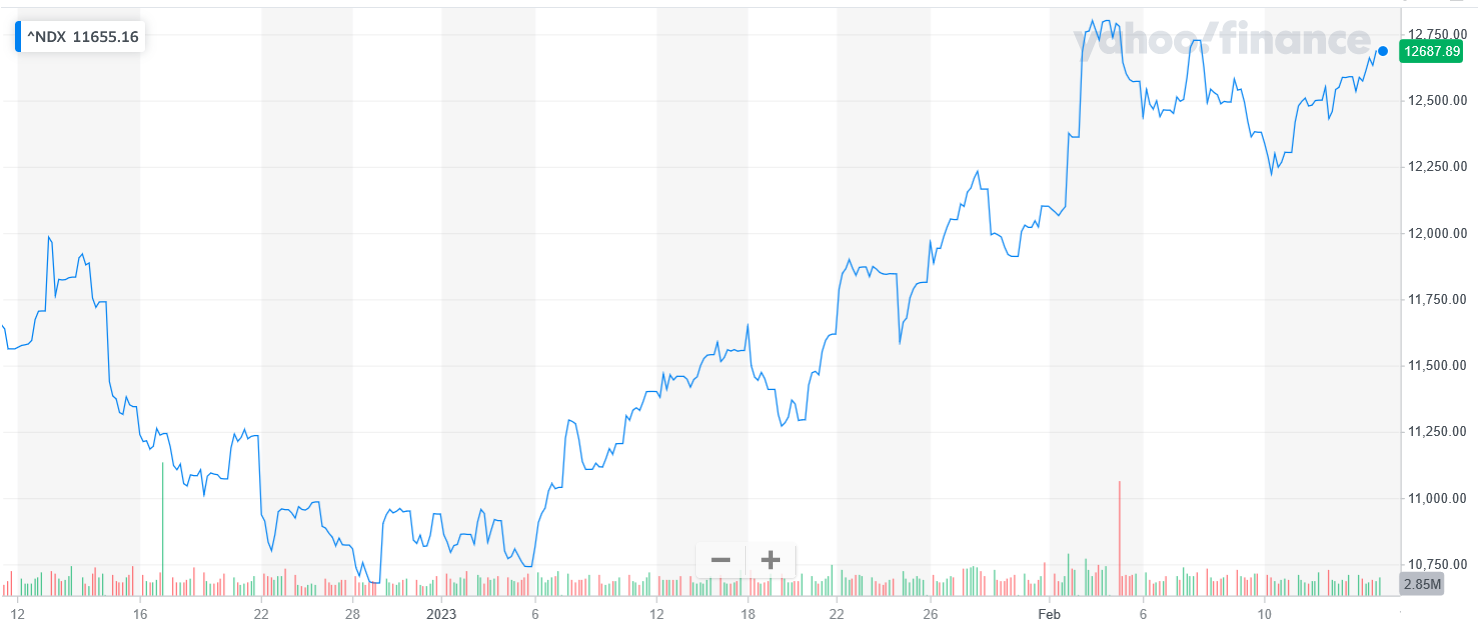 The solid retail sales growth indicates a potential for a strong first quarter in the US economy, leading investors to doubt the possibility of a recession.
However, investors remain cautious due to the stubbornly high inflation rates, with concerns the Fed may keep interest rates high for longer. Chief investment officers expect an inflection point in inflation, monetary policy, and market sentiment in 2023, although the latest data suggest that it is too early to predict a dovish pivot from the Fed.
How will inflation impact the US economy?
The slowdown in inflation was less than anticipated, leading investors to expect the Federal Reserve to raise its policy interest rate to 5.3% this year and delay cutting borrowing costs until 2024. This was a change from just a few weeks ago when the rate was expected to peak at 4.9%.
This change is beginning to affect the equity market, and Julian Brigden, President and Co-Founder of Macro Intelligence 2 Partners, says that "you can't have a rallying bond market and rallying equity market in this environment because you just will not get the weakness to bring down inflation."
However, despite the rise in Treasury yields, the tech-heavy Nasdaq Composite has been outperforming other markets, suggesting that investors are still optimistic about high-growth stocks and hoping that the Fed will change course on its interest rate hiking campaign.
Tech saw a decline in 2022 due to a series of interest rate hikes by the Federal Reserve to control inflation, but the Nasdaq has seen its best start to a year since 2000, jumping 15.3% in 2023.
Meanwhile, the New York Federal Reserve's Empire State business conditions index rose in February. Still, it indicated a decline in activity for the third month, and US industrial output was flat in January. The National Association of Home Builders' monthly confidence index rose in February for the second month.