According to Senator Mark Warner, two U.S. senators planned to propose legislation this week that would enable the federal government to "ban or prohibit" international technology firms like TikTok, which is held by China.
TikTok would be "one of the potentials" for consideration under the proposed legislation, according to Warner, the head of the Senate Intelligence Committee. On Fox News Sunday, the Democratic senator said the things in question.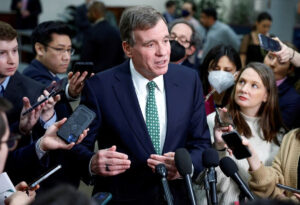 The law is introduced at a moment when pressure on TikTok is increasing due to worries that data about American users could end up in the possession of the Chinese authorities.
The U.S. House Foreign Affairs Committee agreed on Wednesday to provide President Joe Biden with the authority to outlaw TikTok, which would be the most extensive restriction on a social media app ever enforced by the United States.
The White House last week gave government agencies 30 days to make sure TikTok is not installed on any systems or devices that are used by the government. TikTok has also been forbidden from being downloaded onto state-owned smartphones by more than 30 U.S. states, Canada, and European Union policy agencies.
According to Warner, he is worried that TikTok "can be a propaganda tool" based on the videos it delivers to viewers.
He said the bill he plans to introduce "would say, in terms of foreign technology coming into America, we've got to have a systematic approach to make sure we can ban or prohibit it when necessary."
He announced that he would propose the bill this week alongside Republican Senator John Thune. A Warner representative stated that an announcement was anticipated for Tuesday.
There were no specifics about the suggested legislation published on Sunday. Questions concerning the idea were not answered immediately by a Thune spokeswoman.
According to the report by Reuters in January, the CEO of TikTok, Shou Zi Chew, was called to testify before Congress in March amid widespread efforts to ban the social networking site due to concerns over privacy and its effects on children's mental health raised by public officials and institutions.
Chew was scheduled to appear before the House of Representatives Energy and Commerce Committee on March 23.
The committee alleged that the app is linked to the Chinese Communist Party, and said in a statement, "Americans deserve to know how these actions impact their privacy and data security, as well as what actions TikTok is taking to keep our kids safe from online and offline harms."