Taiwan's Foxconn, an Apple supplier has stated that it is trying to seek Indian partners to cooperate in fields like chips and electric vehicles, as reported by CNN. The announcement came after Foxconn, Hon Hai Technology Group, chairman and CEO Young Liu ended his visit to India.
After the supply was severely disrupted in China last year, Foxconn company has been looking to improve its administration in other South Asian countries, as per a news report. However, the firm returned to its form after the disruptions ended early this year.
Young Liu on Saturday expressed that his journey to India helped Foxconn's efforts to build strong partnerships in different sectors like semiconductor development and electric vehicles.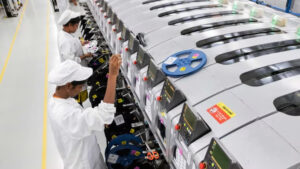 "India is a country with a large population," CNN quoted Young Liu as saying.
"My trip this week supported Foxconn's efforts to deepen partnerships … and seek cooperation in new areas such as semiconductor development and electric vehicles," he added.
As per the CNN report, Foxconn will thrive to talk with the local government of India to seek practical development possibilities for the company as stressed by Young Liu.
Foxconn best known for manufacturing Apple's iPhones is one of the world's largest contract makers of electronics. The firm is trying to expand in other areas including electric vehicles (EV).
"Foxconn will continue to communicate with local governments to seek the most beneficial development opportunities for the company and all stakeholders," Young Liu said as per CNN.
Notably, Foxconn already has different factories in India. The states include Andhra Pradesh and Tamil Nadu. Moreover, on March 5, Foxconn declared to invest in a prominent investment in Karnataka that will generate around one lakh jobs.
In fact, 300 acres of land were kept for this project near the Bengaluru International Airport in Doddaballapura and Devanahalli taluks.
On his visit to India, Young Liu met with Narendra Modi, the Prime Minister of India. Together they talked about topics relating to improving India's tech and developing ecosystem.
In response to a tweet by Hon Hai Technology Group (Foxconn), the Prime Minister tweeted; "Hada good meeting with Young Liu. Our discussions covered various topics aimed at enhancing India's tech and innovation eco-system."
Hon Hai Technology (Foxconn) tweeted, "Chairman Young Liu is visiting India. Today we had a warm meeting with Honourable Prime Minister @narendramodi and updated him on our good progress in the country. Foxconn will continue to build an ecosystem in India allowing all our stakeholders to share, collaborate and thrive." (ANI)