The pay of the chief executive of Apple Inc, Tim Cook is likely to reduce as compared to the previous years, stated in the regulatory filings. The pay of the CEO will depend more on the performance of the iPhone in comparison to its peers. 
In the previous year, his compensated salary was $99.4 million. However, this year the target is $49 million, which is, 40% lesser than the previous year's compensation.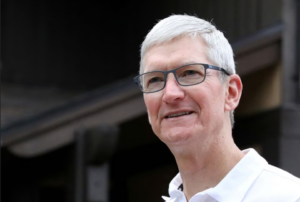 The modifications came when 64 per cent of the shareholders agreed to the pay package of Tim Cook at the annual meeting. Around 94.9 per cent of shareholders approved Tim Cook's compensation last year. 
Along with that, the stock award of the CEO is also likely to witness a change. For the year 2022, he received around 75 million dollars in stock awards while this year the target is lower to 40 million dollars. 
For the year 2023, $30 million will depend on the performance of the company in the shares as compared to last year where half of the total was based on the share performance. 
Tim Cook's pay package will mainly depend now on the share performance. If in future Apple's shares hit high, the $30 million stored in the performance awards will at least double to $60 million. 
Earlier this month, the executive told coworkers that he will be leaving the job. Stern, who switched from Time Warner Cable to the iPhone manufacturer in 2016, will quit at the end of this month, the paper said. 
Stern, a well-known media executive, supervised the development of Apple's firms operating on paid subscriptions, mainly its television service, Apple TV+.
About Tim Cook: 
Since 2011, Timothy Donald Cook has worked as Apple Inc.'s CEO. Cook was born in the United States on November 1st, 1960. Under co-founder Steve Jobs, Cook formerly held the role of chief operating officer for the firm.
Cook became the senior vice president for international operations when he joined Apple in March 1998. Later, he was moved to executive vice president for international marketing and operations. 
Prior to Jobs' demise in October of the same year, on August 24, 2011, he was appointed CEO. He has fought for the political reformation of domestic and global surveillance, cybersecurity, American manufacturing, and environmental preservation during his time as the firm's chief executive from 2011 when he assumed control of Apple till 2020. The cash flow and earnings prospered more than doubled during Cook, and its market capitalisation grew from $348 billion to $1.9 trillion. 
Comments
comments