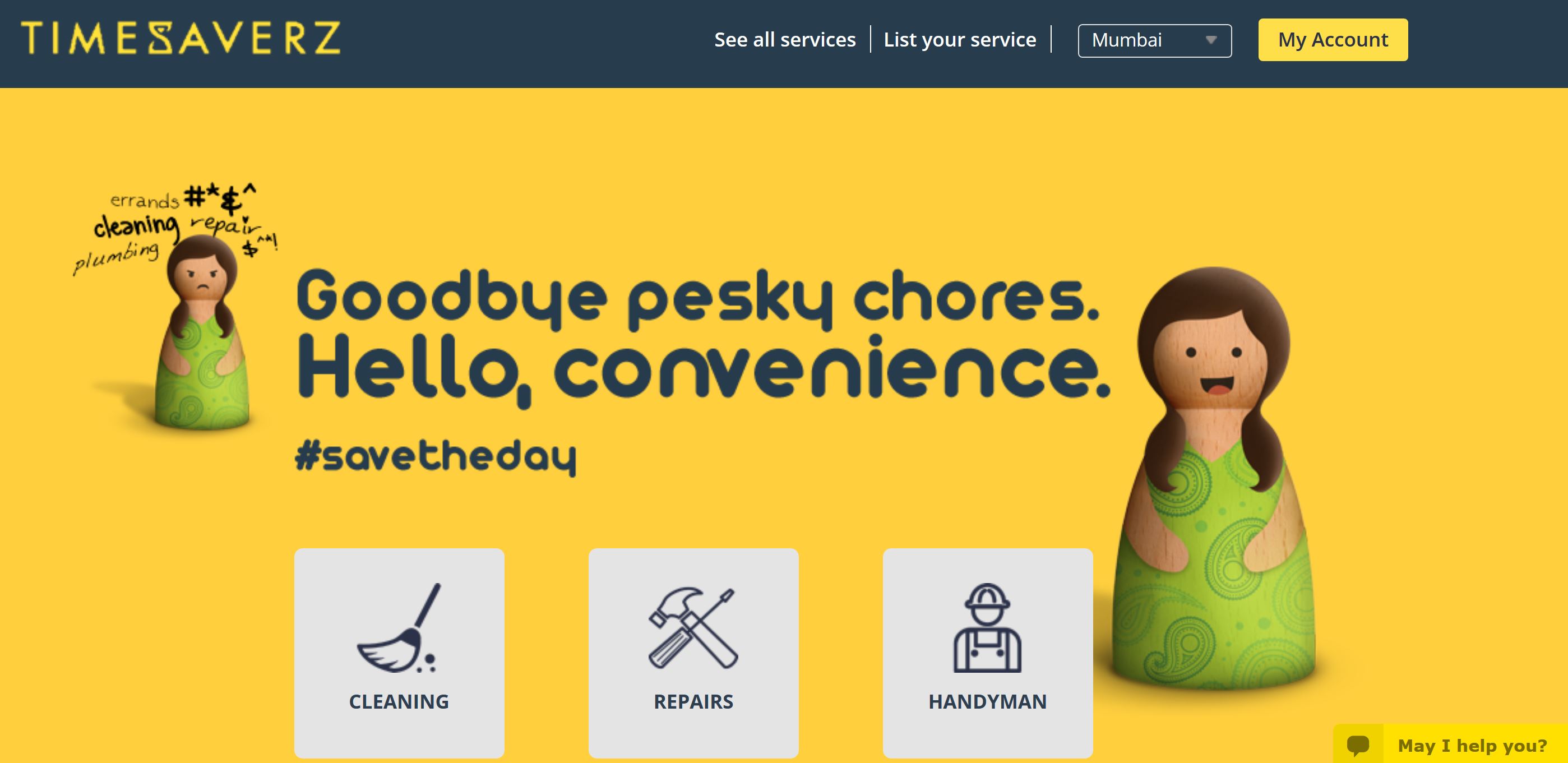 Investment spurred by the high potential of online home services market in India
Mumbai, August 19, 2015: Timesaverz, pioneer in the on-demand home services marketplace model has raised Series A funding of Rs. 15 crore from Ronnie Screwvala's Unilazer Ventures. The investment comes on the back of the high potential that investors see in the online home services space in India. The company, which helps users hire locally-verified and curated service providers through the push of a button, will allocate the raised capital to support its expansion into new markets and services. Timesaverz sees itself as the Uber of home services creating availability and credible aggregation for the consumer, and value for money for the vendors.
Founded by Debadutta Upadhyaya and Lovnish Bhatia, Timesaverz has been extending its service portfolio over the past few months to a number of cities and now operates in 5 key metros, growing at 100% QoQ. Its services have been gaining traction on mobile at an unprecedented rate. With the high rate of mobile penetration in the country, the accessibility of home services at the click of a button has found immense favor with today's tech-savvy and busy consumer.
Speaking about the investment, Ronnie Screwvala said, "On-demand home services comprise the new frontier of e-commerce where service is now a product. Large companies are going to be created in this space and we will work closely with the founders to make Timesaverz a leader in an existing 5 billion dollar industry with immense growth potential. Our decision to back the company was driven by the operational efficiency demonstrated by an experienced team and the social impact it has created among the unorganized but skilled service partners."
According to Debadutta Upadhyaya, Co-Founder and CEO, "Timesaverz started as a 2-hub operational company in Mumbai 2 years ago and has since grown to cater to one service request every 3 seconds and manages fulfillment through a 1000+ Timesaverz partner network across 5 key metros. Since the launch of its new interface both on web and mobile, Timesaverz has been witnessing a 3X growth in visitations and 80% of the traffic is through mobile. The recent round of funding is aimed at bolstering our technology solutions and strengthening our product portfolio."
Timesaverz taps the extremely ripe market for on-demand home services, following consumers' off-take for food service delivery apps and tech-enabled cab services. The second largest mobile economy of the world provides the right impetus for exponential growth in utility based services and it becomes apparent why this market has become the focal point for investors in the country. Additionally, the services offered by Timesaverz are not luxuries but necessities and therefore the demand for them is steady and relevant round the year.
Incepted in April, 2013 and based out of Mumbai, Timesaverz is India's first on-demand home services marketplace that delivers various services to one's door step. The company started its operations in April 2013 and has now expanded its orbit to 6 other key metros – Bangalore, Delhi, Gurgaon, Hyderabad, Noida and Pune.
Comments
comments