Wouldn't it be awesome to message a business just like you message a friend at any time of the day? And your friend also messages you back with the same excitement?! A quick and instant reply is always better because we all love instant responses. Moreover, texting doesn't take your full attention like a phone call. And all this can be done without having to install a new app. Well, that's the disruptive power of Trilyo's ChatBot, an AI-driven Chatbot for hotels that can connect brands with their customers on everyday messaging platforms.
About the Founders and What Inspired Them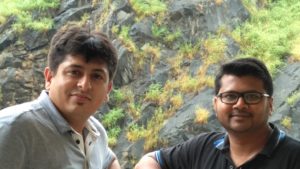 The founders of the Bangalore-based B2B startup Trilyo, Abhishek Moharana, and Gaurav Gambhir have an interesting story. They met each other almost 9 yrs ago while working at TCS. While Abhishek's interest always lied in managing project, Gaurav was a geek. In fact, Gaurav started coding when he was in school. While they have a lot of things in common, the best part of it is that both founders are born on the same day.
Presently, Abhishek Moharana is the co-founder and CEO at Trilyo. Abhishek studied at the Indian Institute of Technology (IIT), Bombay, following which he served as a Senior Consultant at PWC before founding Trilyo. With extensive knowledge across the field of Information Technology, and Investment Banking and Advisory, he with his innovative insights has built a solid foundation for corporate clients. Abhishek's forte lies in building strategic partnerships, drive sales, & product management.
On the other hand, with an experience of more than 11 years, Gaurav Gambhir is the co-founder and CTO at Trilyo. His expertise lies in his technical ideas with the ability to distill them into user-friendly interfaces. Before Trilyo, he was a part of the Bank of America and Ernst & Young. He also won the Golden Beam Award at Ernst & Young.
Gaurav's proficiency in building enterprise application has helped his clients save millions. He prides himself in providing all his clients, both individuals, and institutions, the most precise and the state-of-the-art technology, thereby giving them a realistic outlook to what they can expect to achieve in today's market.
Trilyo's Vision and Products
A part of being a human means having limitations and Trilyo is trying to make it possible for businesses to overcome these limitations with the help of a live virtual assistant that never sleeps. Elaborating Trilyo's vision and its product, its founders, Abhishek Moharana and Gaurav Gambhir state that their conversation-driven platform which they proudly call TIA, or Trilyo Interactive Assistant, is run by Artificial Intelligence (AI) which makes it all the more powerful than other messaging platforms or live chats.
Emphasizing the limitations of a live chat, they commented that in the case of a live chat, a human representative is made to sit behind a system for customer support. This works fine as long as the human representative or the agent is present to assist the customer. If the agent is busy or offline, an interested customer might just walk away because there was no one to answer his or her queries. Unfortunately, this could result in a huge loss for the business.
So, they feel that it's absolutely essential to make help available to customers round the clock, especially if a business wants to be globally acknowledged in different time zones. TIA possesses more comprehensive, up-to-date information as it has the capability to filter through a large search space at a great speed.
As much as 70% to 75% of customer queries are taken care of directly by TIA which halves the manpower needed for customer support. By creating a modern messaging experience on social messaging apps, Trilyo Chatbot engages website visitors and product users for a successful sales and customer experience. Moreover, customers are already present on these messaging platforms which frees them from downloading any additional apps.
Besides working tirelessly for 24/7, TIA also understands customer intentions and moods, and responds in the same tone. This means that on-demand information will be available 24/7 and companies' services will be just a click away in a natural and conversational way.
The Industry and the Competition
When asked about the industry and the competition, both the co-founders stated that the hospitality is a never-ending industry. People won't stop relaxing by spending on weekends or going on holiday either solo or with family and friends.
"Hospitality Industry as we all know is $550bn market but when we see the adoption of technology, they are probably 10-15 years behind other industry. The Hilton or the Marriot's own a very small share in the entire Industry. But, they have the potential to invest in tech aggressively to augment customer services with a quick adoption of new tech while the rest cannot afford that. What they are looking for is a potential tech partner like Trilyo who can help them," Abhishek Moharana states.
He further adds, "There are a huge number of 3-star and 4-star players in the market who are looking to bring AI in Customer experience and that's where Trilyo is helping them." Elaborating what makes Trilyo Chatbot different from others, Gaurav Gambhir said, "Trilyo Chatbot is a different concept on its own. It is not just about making customers experience easy and unique but making the hotel stay perfect."
He further stated that Trilyo Chatbot does a two-way saving. It reduces the dependencies on the manpower needed for customer support and allows you to save those extra pennies, known as 'commission businesses' without the intervention of any third-party. This reduced dependency on third-parties such as online travel agencies (MakeMytrip, Expedia etc.) is going to steal the show because it lets brands save up on the commission paid to the third party while the customer information also remains with them.
According to the founders of Trilyo, all this can result in 30 times more customer engagement, 20 times faster interactions, and 30 time more sales for businesses. The advantages of working in the industry of hospitality is big as it is a growing or well-established industry, and Trilyo is just trying to make the advanced version of the same. Through Chatbots and TIA, Trilyo is now moving towards the next level of customer support.
Trilyo's Journey So Far
The growth of any company depends on two factors, a good idea, and money, but only if one knows how to use the money, which market to invest in, or which investment will not give good returns.
For the founders of Trilyo, it was extremely hard to come out of their comfort zones by leaving their secure and well-paid jobs. In the words of Abhishek Moharana, "Gaurav and I tried working on it part-time but we realized that it needs our full time and that was not going to be easy. We strive hard to get things done. Clearly, it all depends upon a well-researched and well-prepared plan."
He further added, "startups have to go through many ups and downs, there can never be a one-night success for a service-based company. We both wanted to make the company's product the most demanded product in the travel and hospitality industry. Trilyo is building a global product and we're poised to expand our presence in the Middle East and SE Asia. We'll explore both partnership and direct routes."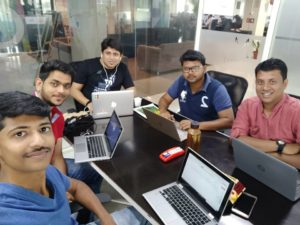 At present, Trilyo has a team of 20+ people and 50 % of them are into technology while the other 50% is into sales and marketing. At present, the company is working with 240 hotels and has generated 25 lakhs so far. The annual revenue run rate is expected to be a 5 fold jump in the coming Fiscal year 2019.
What Role Technology Played in Trilyo's Growth
Abhishek and Gaurav are of the opinion that the best part about any tech business is that it knows no boundaries. Replications in new markets are easy. There are two kinds of things going on in the market – one is to come up with a new idea and the other is to develop the existing one.
"We wanted to hit the hospitality industry completely and wanted to give it a new shape through AI. The main concept was to ease human assistance or to be more specific, converting human assistance into virtual assistance. There are a lot of hotels looking for these solutions online. So, you need to have a good mix of digital marketing and inbound sales & outbound sales processes. Customer acquisition is not the main agenda but to build the trust of that customer in a go is one," they stated.
Challenges
According to Abhishek and Gaurav, the most critical challenge over the years has been to switch from one industry to another. At the time of founding the company, both were focusing on the restaurant industry. But later, they moved to the hospitality sector, as they realized that their products were better-suited for hotels than restaurants.
Both of them feel that they have now achieved the right product-market fit with a consistent flow of income which indicates that the primary revenue stream has been identified. So, they are intensifying marketing activities to ensure that Trilyo becomes the leader in the space of AI for hotels. They started rebuilding the application and are now in such a position that they have more than 240+ properties that they are working with.
In the words of Abhishek and Gaurav, "There were actually several takeaways that could give our company a great marketing advantage. We learned how to accept the 'flaws' and 'no'. Every time we hear a no, we accepted it and worked on it. The most important part of the journey is to hear from the public that 'no this is not something which can make our hotel more advance'. We took these words as a challenge and now, TRILYO is doing really well."
Funding Activities
Trilyo is aiming to reposition itself and focus on a bigger scale of expansion. They are reportedly aiming to raise US $ 1.5-2 million in Series A in the upcoming months. Though Chatbots are their go-to-market products, the bigger picture lies in bringing AI in the customer experience space within the hospitality industry.
Chatbots are more like a commodity today but if we consider the customer journey it's not just limited to chat experiences. To put in the words of Trilyo's founders "The millennial travelers expect luxury that is lean and smart. We're making hotels smarter with the help of AI wherever there is an element of smart customer experience. The ultimate vision is to enhance the hospitality industry as much as we can."
Trilyo is truly creating the next level of customer experience in hotels. Their voice-based concierge service using Amazon Echo is the first in hotels. We hope that in the coming days, the company will scale new heights in excellence.