If you're a music lover, chances are you've come across Pandora, the popular music streaming service with an extensive library of songs and personalized stations. But have you ever found yourself wishing you could save your favorite Pandora tracks and listen to them offline? That's where Tunefab Pandora Music Converter comes in. This nifty software allows you to download and convert Pandora songs into a variety of formats, so you can enjoy them on any device, anywhere, anytime. In this ultimate guide, we'll take a closer look at the product, its features and benefits, and how to use it to enhance your music experience. Whether you're a Pandora fanatic or simply looking for a hassle-free way to expand your music collection, Tunefab is worth checking out.
TuneFab Pandora Music Converter: Its Benifits
Discover the freedom of music playback with a Pandora Music Downloader! Get rid of those pesky limitations like ads and skips imposed by Pandora. Here are some of the benefits this product offers:
1) DRM-Protected Pandora Songs:
This powerful tool allows you to easily convert DRM-protected Pandora songs to various formats such as MP3, M4A, and more. Enjoy Pandora music offline on any device without any restrictions or limitations.
2) Built-in Media Player:
The built-in media player allows you to preview the tracks before downloading and converting them. This ensures you get only the music and soundtracks you want to save for offline playback.
3) Easy-to-Use Interface:
The user interface is intuitive and easy to understand, so even a  beginner can use the software without any problems.
4) Quick and Secure Download:
The download speed is lightning-fast while also being secure and free from viruses or malicious programs.
5) Play songs While Staying Outside:
When it comes to listening to music outside the United States, it can be a total bummer not being able to access your favorite Pandora tracks. Luckily, you don't have to let geography hold you back any longer, thanks to TuneFab Pandora Music Converter. With this powerful software, you can easily download Pandora songs and play them even while traveling abroad.
6) Batch Download and Convert:
This product lets you download and convert multiple tracks simultaneously, so you can quickly and easily save your favorite Pandora songs for offline playback.
7) Support Multiple Formats:
TuneFab supports a wide range of formats, including MP3, M4A, AAC, WAV, FLAC, and more. So, you can count on compatible tunes no matter what device you're using!
Full Overview of TuneFab Pandora Music Converter
The Tunefab Pandora Music Converter is a powerful and easy-to-use tool that allows you to save your favorite Pandora songs as MP3s or other audio formats. With its clean interface, intuitive design, and efficient download speed, it's easy to go right with this product. Here are some of its features:
1) Remove DRM Protection:
Unlike Pandora's official download function, TuneFab removes all DRM protection on downloaded songs and podcast episodes, allowing you to save them in universal MP3, M4A, WAV, or FLAC formats. Best of all, with TuneFab, you can enjoy your saved tracks offline and on any device, regardless of geographic location or whether or not you have the Pandora app installed.
2) High Output Quality:
This powerful tool takes your music experience to the next level by offering the highest 320Kbps output quality to ensure you have an offline playback experience. Say goodbye to the inconsistent streaming experience of the official Pandora download function and other popular downloaders that don't offer the same sound quality. TuneFab Pandora Music Converter guarantees crystal-clear music playback, making it the perfect addition to your music arsenal.
3) Save ID3 Information:
Want to keep all the song information intact? TuneFab makes it easy to save metadata such as Title, Artist name, Album name, Year of release, and more for every track you download. This way, your music collection will be properly organized and labeled so you can instantly find the tunes you love.
4) Quick Downloading Speed:
TuneFab software brings the official Pandora Music Web Player right to your fingertips. All you need to do is sign in and get ready to go. With its easy-to-use interface, you can easily drag and download playlists or podcast lists with just one click! No more tedious clicking through each episode to download – TuneFab Pandora Music Converter can take care of it all at lightning-fast speeds up to 6x faster.
5) Keep Pandora Downloads Forever:
This fantastic software lets you keep all your downloaded songs offline forever, even after your subscription has ended. You no longer have to keep paying for Pandora or any software subscriptions. The best part is that you can still listen to all your downloaded Pandora songs offline whenever and wherever you want, without a fuss. TuneFab Pandora Music Converter is the perfect solution for those who want to keep their music collection safely stored for eternity.
How to Use TuneFab Pandora Music Converter
Step 1. Sign in to Pandora Subscribed Account
The first step is to install the software onto your computer and open it up. Once you've clicked the "Open the Pandora web player" button, you'll be directed to sign in with your Pandora account. From there, you can easily use the in-built Pandora Music Web Player to access all of your favorite playlists and tracks. With TuneFab Pandora Music Converter, you can easily convert and download all of your favorite songs for offline listening.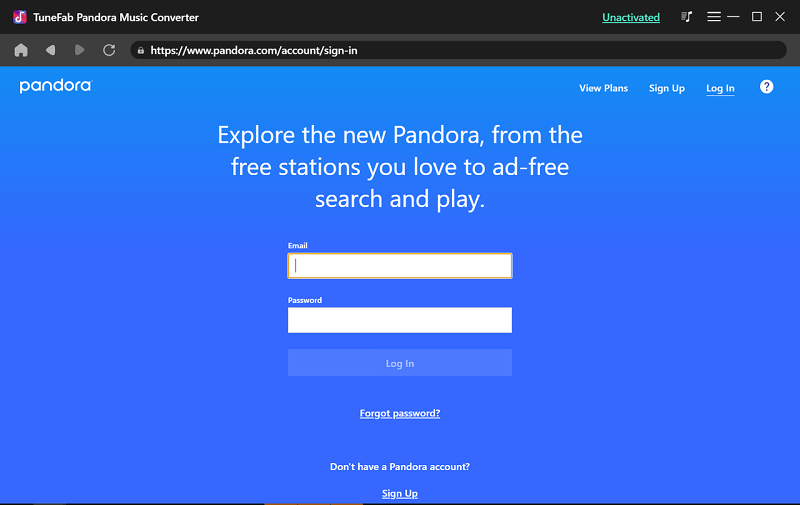 Step 2. Add Pandora Playlists
Once you've installed the program, step two is to start adding your favorite Pandora playlists. You don't have to go through the hassle of manually searching for each one; use the integrated search function in the web player to discover them all in one convenient spot. Once you've located the playlists you want, drag them to the "+" button and let the program handle the rest.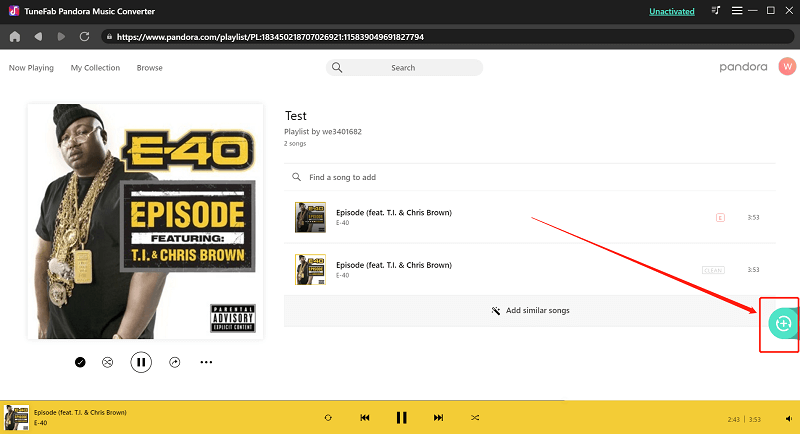 Step 3. Select Format and Quality
Step three is all about selecting the format and quality of your tracks. With TuneFab, you can choose from MP3, M4A, WAV, or FLAC formats to best suit your listening preferences. But it doesn't stop there. For advanced users, the "Preferences" setting window allows you to adjust "SampleRate" and "Bitrate" to optimize your music experience truly.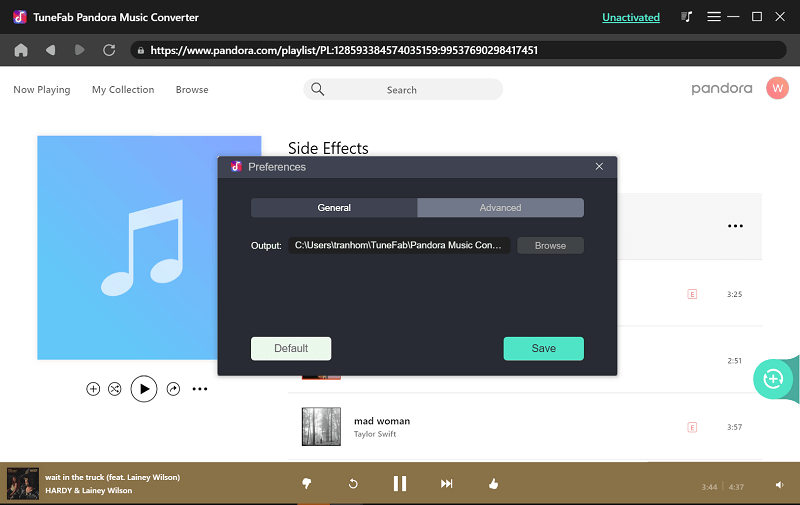 Step 4. Download Pandora Music
With just a click of the "Convert All" button, TuneFab Pandora Music Converter takes care of everything, making it the perfect solution to spice up your music collection. You can choose to download single tracks or entire playlists – and all of them will be saved with the highest 320Kbps output quality available. Enjoy crystal-clear music playback anytime, anywhere you want!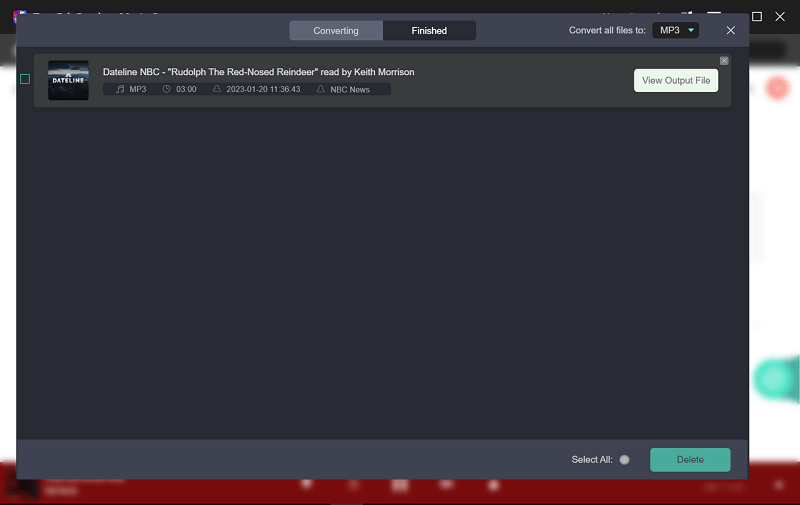 TuneFab Pandora Music Converter: Pros & Cons
Pros:
Easy to use and user-friendly interface.

High-quality music downloads at up to 6x faster speed.

Can save ID3 information (title, artist, album name, etc.) for an organized music library.

Can keep Pandora downloads forever – even after the subscription ends.

Unlock Pandora's entire music library when you sign up for the free trial – convert your favorite songs beyond just 3 minutes!
Cons:
Some premium features require payment.

ID3 information cannot be edited as per user preference.

The free trail version has a limited conversion limit.
Conclusion
TuneFab Pandora Music Converter is the ultimate solution for those who love Pandora music but are tired of the app's limitations. With this powerful tool, you can now remove DRM from Pandora songs and download them in common formats, which means you can listen to your favorite tracks anytime and anywhere – even without an internet connection. The best part? You don't have to rely on the Pandora app anymore. TuneFab Pandora Music Converter lets you save any playlist you like and transfer it to all your devices, so you can enjoy your favorite songs on any media player. Say goodbye to the hassle of using multiple apps and hello to ultimate convenience and flexibility – thanks to TuneFab Pandora Music Converter.