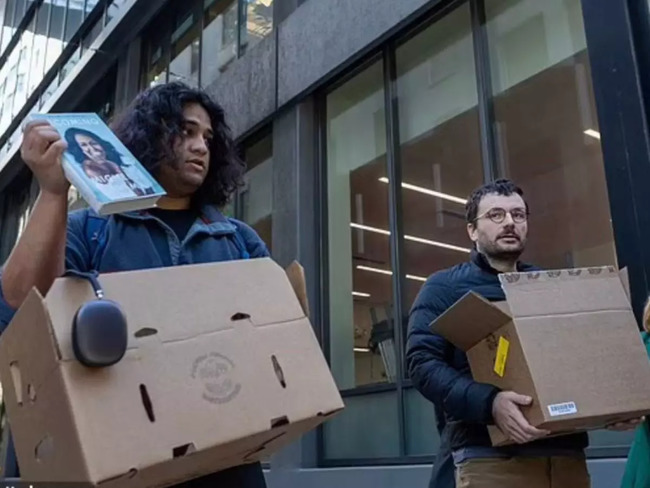 Some of the pranksters across the street decided to trick the media outlets into believing they had been sacked from the company after the massive takeover of Twitter on the 27th of this month. CNBC, an American business news programme reported on the employee's termination, after which social media erupted. It was up until Verge revealed that Twitter Slack, the email system, and Linkedin don't store the two employee information.
On the 28th, a CNBC journalist, Deirdre Bosa vented her indignation and anger on Twitter by tweeting that "it's happening".
https://twitter.com/dee_bosa/status/1586042389851820034?s=20&t=E601fcst5sTDGW4cbbPFPA
Reporters were interested when they saw two individuals, Rahul Ligma and Daniel Johnson, leaving the San Francisco offices of Twitter with a box each containing personal stuff. They looked contemplative as they passed and talked about getting fired. Curious reporters interviewed them without making a mistake.
Undoubtedly, the Ligma meme broke the news stations' code.
One of the recordings showed Daniel dodging the reporters with absurd statements like "touch base with my husband and wife", "nazi" and "transgender women."
They also ensured to include "free speech" during their performance. While promoting Michelle Obama's book Becoming, Ligma said, "It makes me worry about the future of our democracy" and "the future of celebrity guardianship."
The reaction of the Chief Twit
Elon Musk couldn't help but enter the internet after learning of the prank. Regarding his self-described identity as a "free speech absolutist," he stated,
"Comedy is now legal on Twitter."
https://twitter.com/elonmusk/status/1586104694421659648?s=20&t=GPhrTm2b7UFtIxQo1EfrJA
and linked the purported image of the men with boxes to the message,
"Ligma Johnson had it coming".
https://twitter.com/elonmusk/status/1586108809772089345?s=20&t=GPhrTm2b7UFtIxQo1EfrJA
The online discussion was sparked by Elon Musk's post after the hoax was revealed. Online commenters were compelled to respond with humorous remarks. The internet prank was continued by a Twitter user going by the handle Rahul Ligma, who stated:
"Uber has no cars

Airbnb has no real estate

Twitter has no more data engineers

This is the new economy"
https://twitter.com/rahul_ligma_/status/1586171515669598208?s=20&t=E601fcst5sTDGW4cbbPFPA
Musk's firing of staff was not totally accurate, even if the new company buyer did fire key executives. These people using bogus names—Rahul Ligma and Daniel Johnson—made the most of the circumstance by pretending to be fired Twitter employees.
Later, Deirdre Bosa tweeted that the information might not be accurate because it wasn't sure if they were actually employed by the organisation and if they had ever sacked anyone.
"…we have not been able to confirm that they were actual employees or that the co has laid off anyone today"
https://twitter.com/dee_bosa/status/1586094584106389504?s=20&t=MNxMI0LUEuGh87V0h2mO-w