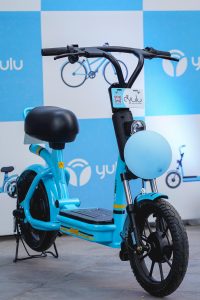 09 May 2019, India:
Cab sharing platform Uber today announced that they have partnered with technology-driven mobility platform Yulu to provide users the option to ride e-bikes and bicycles in Bengaluru.
These e-bikes can clock a speed of 25 km/hr, and users don't even require a licence to ride one of these.
Users need to click on 'Try Yulu' option on their Uber app and follow the prompts to e-bike or bicycle.
Users can unlock Yulu e-bikes with QR codes on their device. This system enables easy pick up and return throughout the urban centers of Bengaluru.
The company is offering discounts on first three rides.
"Along with being environment and traffic friendly, these self-ride e-bikes are also pocket friendly, taking into account the varying needs and budgets of the consumer. We understand that the push towards electrification has to be multi-modal, and the collaboration with Yulu only goes to demonstrate the intent therein," the company said in a statement.
Yulu was founded by Amit Gupta, RK Misra, Naveen Dachuri, Hemant Gupta. The company operates about 500 e-bikes and 4,500 bicycles on it's platform. It has raised about $7 million in funding.
It's vision is to reduce traffic congestion by providing a scalable, affordable, efficient and clean solution for the first mile, last mile, and short distance commute.
Yulu uses IoT technology to create a vast network of shared dockless bicycles that can be rented easily by a user-friendly app in pay per use business model.
(Image – Uber, Yulu)
Comments
comments