The latest Bureau of Labor Statistics report shows that US employers added only 236,000 jobs in March, falling below the economists expectation of 239,000 jobs and indicating a slowdown in the labor market. This can be attributed to the Federal Reserve's yearlong campaign of raising rates to control inflation.
Despite this, the unemployment rate has dropped to 3.5%. It's worth noting that this is the first job report in 12 months to fall short of expectations. While the labor market has been steady amidst economic turmoil, it shows signs of cooling down.
The labor market has gained millions of jobs 
Over the past year, the US labor market has gained over 4.1 million jobs, decreasing the unemployment rate to historic lows. However, the March jobs report reveals a notable decline in job gains compared to February's report. The report shows that only 236,000 jobs were added in March, the smallest monthly increase since December 2020. The job market is still above pre-pandemic levels, where the economy added an average of 183,000 jobs per month between 2010 and 2019. President Joe Biden said this is still a good report for hard-working Americans.
Leisure and hospitality, healthcare, and government are among the industries that saw job gains, while retail trade, temporary help, manufacturing, construction, and information services reported monthly job losses.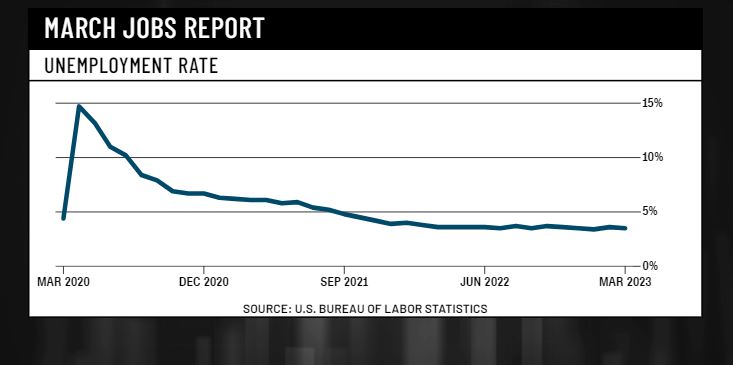 The leisure and hospitality industry still needs to fully recover to pre-pandemic levels, with around 368,000 fewer jobs compared to February 2020. Furthermore, job openings have fallen to their lowest in nearly 10 years, and the private sector job gains were below expectations for March. The Challenger Report also showed increased job cuts, with over 89,000 layoffs announced in March. Continuing jobless claims have also reached a level not seen since December 2021.
The Federal Reserve is aiming for more slack in the market 
Previously, jobless claims data showed a tight labor market unaffected by mass layoffs. However, the latest release from the Department of Labor has revised and adjusted the data to reflect pandemic-related labor market dynamics. These revisions show an apparent increase in initial jobless claims since February, with the four-week moving average now at 240,000 shares.
The March jobs report showed some leading indicators pointing towards a further cooling in the labor market. The average workweek decreased slightly, temporary employment dropped, and the construction industry lost jobs for the first time since January 2022.
The Federal Reserve is aiming for more slack in the labor market to help ease inflationary pressures, as the demand for workers has outstripped the supply due to a smaller-than-expected labor force and slow participation rates.
Over the past two and a half years, there has been much speculation as to why workers have been missing from the labor market, with possible explanations including Covid-19 deaths, reduced immigration, aging population, and long Covid. However, workers are now returning to the job market.