We talk a lot about Bitcoin and Ethereum, but there are many other underrated cryptocurrencies out there. So, it is important not to miss out on these big gems. So today Let's talk about VeChain (VET), which is a great altcoin and could be the next big thing in the crypto world. In the bull run, the price of VET has already increased substantially, and very soon, we could see it make new highs again.
About VeChain
VeChain is a public blockchain that is based on the activities of its users solving real-world economic problems. There are a lot of features of VeChain that make it a really attractive investment at this price point. It has support for multi-party payment, multi-tack transactions, controllable transaction lifecycle, transaction dependency, easy adoption for enterprises, and more.  Another great thing about the coin is that it is not power-hungry. It actually takes very little power to achieve network security and integrity. VeChain also has the ability to prevent hard forks.
It is based on a governance model that means that it takes into account the views of all the stakeholders in the system. There is great community support for VeChain, and they are rapidly innovating in the sector. VeChain is based on a proof of authority system, unlike the proof of work in Bitcoin and proof of stake in ETH 2.0. In proof of authority system, the master node operators with the aligned interest of the VeChain development system works according to their companies policy.  At present, VeChain has a market cap of $6.68 billion and a position of 20 according to Coin Market cap.
Price predictions of VET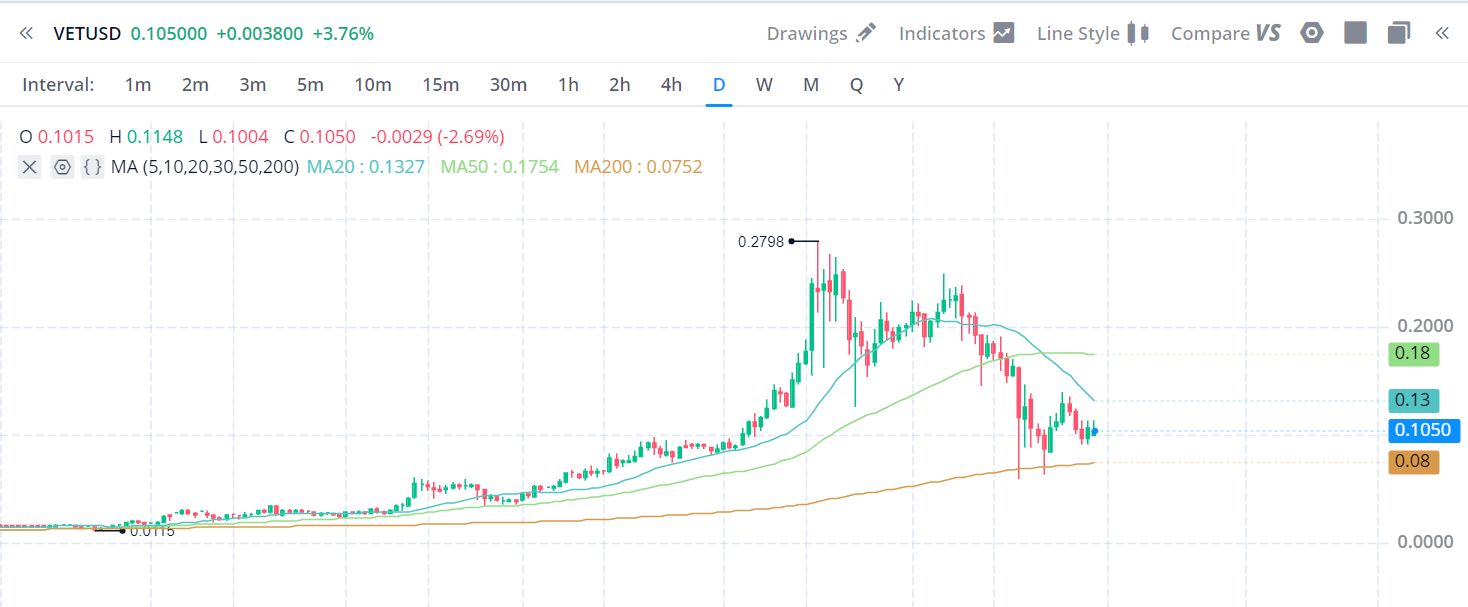 At present, VeChain is trading at nearly $0.10, which is much less than its all-time high of around $0.28. The market dip has pushed down the price of the cryptocurrency by a huge margin. And it seems to be a good time to pick it up. If June goes well, then we can expect it near its gap to its previous ATH. If we stay bullish and the market behaves in a similar way, then we can expect the price of VeChain to touch $1 by the end of this year. This is a very ambitious price prediction and is not financial advice.
I am personally an investor in VeChain and believe in its future. And if the market gets bearish and the prices drop further, it is one of the coins I will like to accumulate before the next bullish cycle.
---
Are you an investor in VeChain? If yes, what feature of the coin do you like the most? And if No! why have you stayed away from it. Let us know in the comments below. Also, if you found our content informative, do like and share it with your friends.
Also Read: "We are all going to die" if we use Bitcoin says Chinese Economist