Virat Kohli is a legendary figure in cricket, but outside of the game, he's garnering attention for his obsession with food. He has always had a special place in his heart for Delhi's culinary treats, and right now he is expanding on that love. Since taking on the role of a restaurateur, Kohli's restaurant chain, One8 Commune, has been on an unstoppable ascent. most recent stop? The 7th One8 Commune location has opened its doors in Gurgaon. Let's investigate this fascinating culinary experience, from its chic surroundings to the tempting cuisine and its potential influence on the culinary world.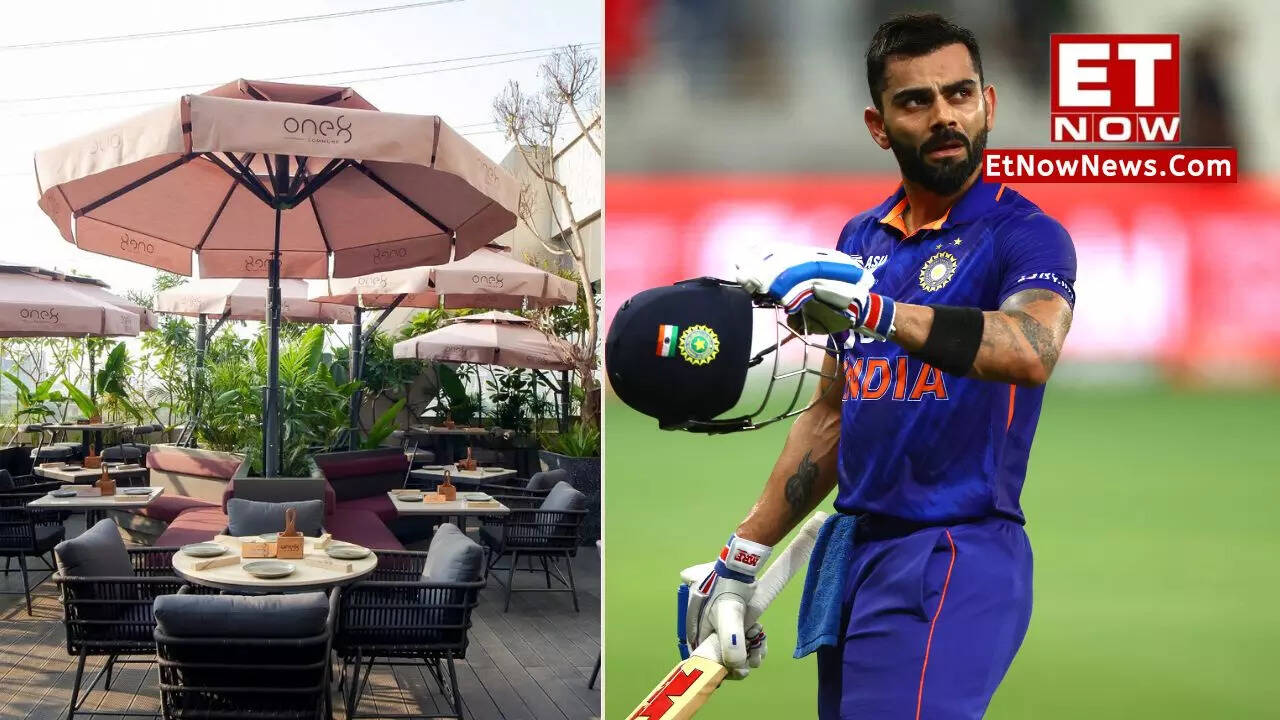 Credits: ET News
One8 Commune Gurgaon: Where Style Meets Taste
One8 Commune Gurgaon is more than simply a restaurant; it's an exquisite work of architecture and design. The exquisite interiors, created by the renowned Studio Renesa, are a visual delight. Imagine entering a space where rose gold accents lend a touch of grandeur while the walls are decorated in hues of mauve, lavender, and pink. Its style is a reflection of Virat Kohli's dedication to perfection, whether it is in the world of fine dining or cricket.
A Culinary Odyssey of Togetherness
Virat Kohli said that One8 Commune Gurgaon is more than just a restaurant; it represents a feeling of community. This element is present throughout the restaurant's mission as well as the décor. One8 Commune brings people together over shared meals and festivities in order to make memories that will last a lifetime.
The Culinary Symphony at One8 Commune Gurgaon
One of the main attractions at One8 Commune is its ability to innovate with flavors, and the Gurgaon branch is no exception. The menu here is a culinary odyssey, offering over 40 dishes that cater to diverse palates. Some standout creations include:
Spaghetti Cherry Tomato Stew: A burst of freshness with ripe cherry tomatoes and fragrant herbs.
Tomato Barley Risotto: A twist on the classic, featuring wholesome barley as the star.
Zucchini Croquettes: Crispy on the outside, tender on the inside – a vegetarian delight.
Nasi Goreng: An explosion of Indonesian flavors in a bowl of fried rice.
Green Mac n Cheese: Macaroni and cheese get a healthy makeover with an infusion of green goodness.
Mushroom Galouti: A vegetarian take on a timeless classic, boasting the earthy flavors of mushrooms.
And then there's the 'Virat's Favourites' section, where you can savor dishes personally handpicked by the cricket icon. This section boasts culinary gems like Avocado Tartare and Pearl Barley Risotto, showcasing Virat Kohli's evolving palate as he embraces a vegetarian lifestyle.
Virat Kohli's Culinary Transformation
Virat Kohli revealed his switch to a vegetarian diet in an open Instagram post. He was open about his dislike of bitter gourd (karela), a common ingredient in Indian food. This change reflects his dedication to leading a healthy lifestyle in both his personal and professional lives.
However, Virat's passion for food extends beyond savory delicacies. He enjoys the South African treat known as Malva Pudding and has a sweet tooth. Imagine a dessert that is served with a dollop of whipped cream or a scoop of ice cream that has a caramelized surface and a spongy, buttery inside. It's a lavish treat that appeals to anyone who values life's sweeter things.
Impact and Beyond
The goal of Virat Kohli's debut into the restaurant industry is to share his culinary journey with the public as well as to broaden his entrepreneurial horizons. One8 Commune's expansion into Gurgaon demonstrates both the brand's rising appeal and its capacity to satisfy a wide range of tastes.
This action fits in with the broader trend of famous people and athletes opening restaurants and leveraging their influence to develop distinctive dining experiences. Such endeavors frequently attract interest and attention, which helps these businesses succeed.
The One8 Commune, owned by Virat Kohli, isn't simply a restaurant; it's a revolution in the making. The trip to Gurgaon provides creativity, style, and a fusion of cuisines, giving diners the option to join Virat on his culinary journey.