Throughout a lengthy two-hour all-hands meeting on Thursday, Salesforce CEO Marc Benioff evaded inquiries regarding the firm's plans to decrease its employment by 10%, and based on internal Slack conversations shown to Insider, workers weren't happy about it.
"We just hired too many damn people in the last year and a half, we just got a little bit crazy", Benioff commented on recent layoffs.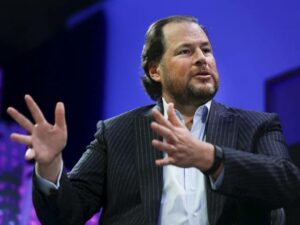 According to snapshots seen by Insider, team members brought out that many queries had gone unanswered in a Slack channel introduced for questions during the all-hands session. In a statement on Wednesday, Benioff first unveiled the approach for reductions and indicated that the downsizing would actually occur "mostly over the coming weeks."
"Is Marc filibustering 47,600+ employees right now by talking in circles and avoiding the topic at hand," one employee wrote in the Slack channel, along with others writing variations of "ANSWER OUR QUESTIONS" and "what are we even talking about?"
"Not a question, but a suggestion: For future all-hands calls, it would be nice to know what the intent of the call is," another employee wrote in a message with more than 100 supportive reactions from employees. "I'm sure many of the 10s of thousands of people on this call could be getting things done rather than listening to an unstructured conversation about the business when most people came with very specific questions they hoped would be addressed."
According to one person in the room, there was allegedly so many unhappy staff after the all-hands conference that one executive apologized in a session held and suggested those who hadn't attended the gathering not to bother watching.
Benioff has encouraged the idea of "Ohana" at Salesforce and constantly speaks regarding spirituality. According to a 2017 blog post by Salesforce, "Ohana" is a concept in Hawaiian culture that symbolizes the connections of a family that motivate folks to take care of one another.
Benioff linked layoffs to death during Thursday's all-hands conference, calling the firm's present conditions a "spiritual moment."
"At the kickoff every year, you know, we, um, have a moment where we always say goodbye to everyone who's died during the year. And, um, loss is really difficult and losing folks, and especially losing our trusted colleagues and our managers or employees, it's very similar, uh, in a lot of ways for me," the CEO said. "We need to kind of acknowledge that and give ourselves time to mourn and kind of be able to move forward."
"Given how little of this call has addressed the layoffs, the questions asked in this channel, and the 'family' who were laid off, should we consider retiring the phrase 'Ohana," one employee asked, referring to the company's mantra about supporting employees.
In the meantime, a lot of executives, notably co-CEO Bret Taylor, have expressed his decision to quit the firm. According to reports, Benioff has been imposing greater influence on the organization, alienating his closest lieutenants and putting the pressure on staff to do well, Insider has reported.