Will Cathcart, the head of WhatsApp stated recently that he would rather block users in the United Kingdom from using the application than surrender it to allow the Government to "lower the security of the product".
He said that the company will not comply with any new rules if the new Online Safety Bill compelled it to scan private messages for child abuse material, as per BBC reports.
WhatsApp is a messaging app that uses end-to-end encryption to ensure privacy for any third party or individual to read the users' messages.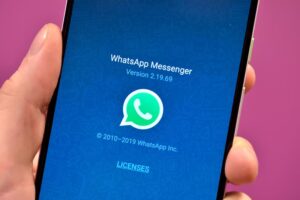 "Our users all around the world want security – 98% of our users are outside the UK, they do not want us to lower the security of the product," he said.
"We've recently been blocked in Iran, for example. We've never seen a liberal democracy do that."
He added: "We won't lower the security of WhatsApp. We have never done that – and we have accepted being blocked in other parts of the world.
"When a liberal democracy says, 'Is it OK to scan everyone's private communication for illegal content?' that emboldens countries around the world that have very different definitions of illegal content to propose the same thing," Mr Cathcart said.
He added: "If companies installed software onto people's phones and computers to scan the content of their communications against a list of illegal content, what happens when other countries show up and give a different list of illegal content?"
After the draft was published in May 2021, the Online Safety Bill has been working its way into the UK Parliament. It is drafted to help decrease online trolling and illegal forms of pornography by putting more responsibilities on different platforms available on the internet that people use. Wikipedia, in January, warned that the Online Safety Bill might end up restricting certain freedom of expression.
About WhatsApp: 
The US IT firm Meta owns the freemium, cross-platform, centralised instant messenger (IM) and voice-over-IP (VoIP) service WhatsApp (also known as WhatsApp Messenger), which is globally accessible.
It enables individuals to share photographs, documents, user locations, voice and video calls, text and voice chats, and other stuff. Both PCs and mobile devices can use WhatsApp's client software. To sign up for the service, you must have a mobile phone number. WhatsApp launched a separate business application called WhatsApp Business in January 2018 that can interact with the main WhatsApp client.
The platform was developed by Mountain View, California-based WhatsApp Inc., which Facebook bought in February 2014 for close To US $19.3 billion. By 2015, it had overtaken Messages as the most widely used messaging app, and by February 2020, it had more than 2 billion users globally. In regions like South America, the Asian subcontinent, and significant portions of Europe and Africa, it had gained over as the major method of Online communication by the year 2016.