The world's richest person, Elon Musk currently owns a little over six corporations. The billionaire's biggest recent acquisition was Twitter, a microblogging platform.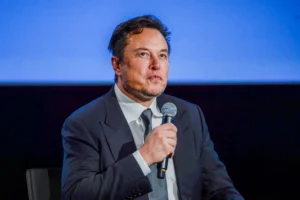 Elon purchased Twitter for $44 billion in October of this year, and since then, he has implemented a variety of challenging modifications with the goal of developing a profitable organization, or what he tends to refer to as "Twitter 2.0."
Now, Elon has revealed his intention to acquire another US-based venture and, this time, to challenge mainstream media. Although he is still attempting to revive Twitter.
Elon claims to take over Substack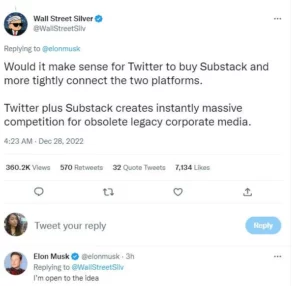 Elon recently claimed that he is open to the concept of acquiring Substack, a US-based internet company that delivers publication, payment, statistics, and designing a framework to facilitate membership newsletters, in his responses to Twitter user Wall Street Silver. The digital site, which was launched in 2017, encourages authors to deliver digitized newsletters instantly to members.
Elon had the thought after a Twitter user inquired whether it would be advantageous for Twitter to purchase Substake and further merge the two services. 
To this Musk said, "I'm open to the idea". "Twitter plus Substack creates instantly massive competition for obsolete legacy corporate media," the Twitter user posted.
Musk's reaction comes following the lukewarm response from mainstream and corporate media on "Twitter Files", which Musk got revealed by independent journalists. 
"Why is corporate journalism rushing to defend the state instead of the people?" Musk said in one of his latest tweets. The Twitter boss has also reacted to Leighton Woodhouse's, a freelance reporter and documentary filmmaker, post on Substack that "establishment journalists' response to the Twitter Files is that of a profession committed to protecting the state instead of exposing it".
To the uninformed, Chris Best, the co-founder of Kik Messenger, Jairaj Sethi, a programmer, and Hamish McKenzie, a former tech journalist, launched Substack earlier in 2017. To facilitate membership newsletters, the US online service offers publishing, payment, analytics, and graphic infrastructure.
Considering that, Elon recently owned Twitter for $44 billion, the probability of him acquiring Substack isn't presently exceptionally high. Including Tesla, SpaceX, The Boring Company, Neuralink, Twitter, and OpenAI, Elon actually holds close to six businesses. 
He is the owner and CEO of Twitter, the founder of The Boring Company, the CEO and chief engineer of SpaceX, the CEO and chief product architect at Tesla, and the co-founder of Neuralink and OpenAI. 
Despite his hesitation to give the new Twitter CEO total control, Musk is actively searching for a successor. He recently claimed that he's seeking for a person to take over as CEO of Twitter, however, he will continue to oversee the software and server teams.