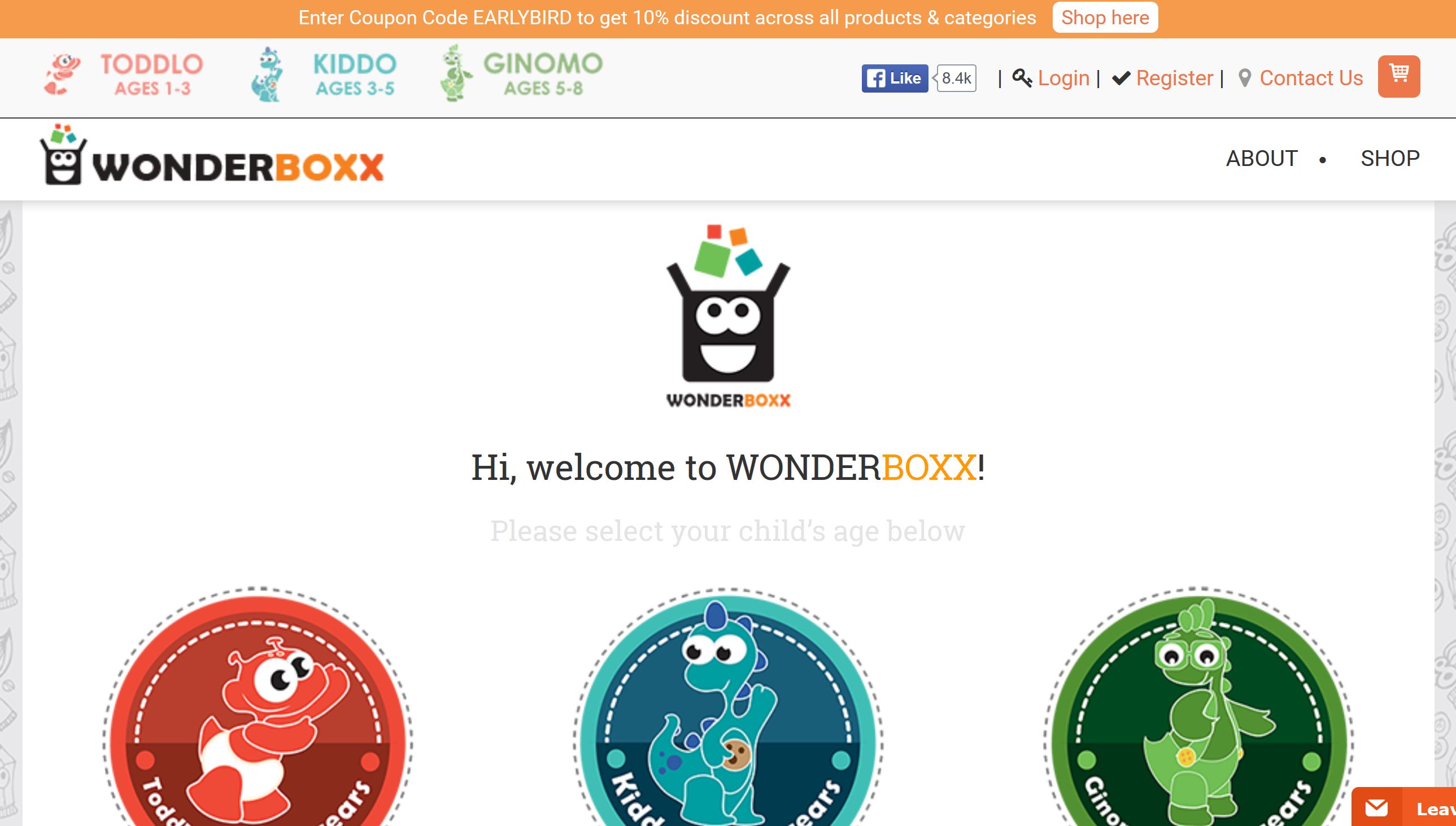 WonderBoxx is an early childhood learning monthly subscription service that delivers hands-on child-driven products that promote creativity and fuel curiosity.
India's first age-specific learning tool-kits to inspire imagination in 1 to 8 year olds
Launch event attended by a panel of experts:Kenneth Wong (Chair of Education Department at Brown University), Manish Jain (IIT Kanpur Alumnus, Toy Design Expert), Priya Kuriyan (renowned illustrator) and Minakshi Balakrishnan* (senior academician with more than 20 years of experience in teaching young kids)
 New Delhi, May, 20th 2015: WonderBoxx, India's first age specific learning tool kit was unveiled today in the Capital. WonderBoxx, which is the brainchild of IIT Kanpur alumnus Deepanshu Arora & Parita Parekh, an alumnus of Brown University is backed by a team ofpedagogy experts, product designers, children authors, illustrators and young parents. The product which is priced between Rs 1200-1500 per kit – is designed specifically for children from the age groups of 1-8 year olds and is delivered across the country.
WonderBoxx enables the child to create a home lab, to construct ideas, to lead hands-on inquiry and to develop a culture of knowledge. WonderBoxx is designed keeping in mind the essential need to provide children with contexts that encourage exploration, inquiry and action. It follows different guiding philosophies for every different age group. For 1 to 3 year olds, it explores learning through imaginative and sensory play; for 3 to 5 year olds, it provides materials to facilitate exploration, creation and learning and for 5 to 8 year olds, it delivers resources for children to discover and innovate.
At the launch event Parita Parekh& Deepanshu Arora, Co-founders and the creative minds behind the idea of WonderBoxx said "WonderBoxx takes the child on a new inspiring journey of imagination and creativity, every month. We have created WonderBoxx through a design-propelled process that ensures that the product is child-driven and stimulates action and enquiry. To ensure that children develop the attributes of a lifelong learner such as curious, imaginative, adventurous, intuitive, perceptive and playful and a grounded creative worldview, our Boxxes are designed to work in continuum to promote on-going investigation and exploration."
Kenneth Wong, Chair of Education Department at Brown University, USA, and part of the advisory board at WonderBoxx said, 'Play is the best form of learning. A child makes sense of the outside world using all five senses. Play employs all five senses, and hence is much more fun than academics that tap into a maximum of two – sight and sound. However, it is kind of a difficult task to break down each learning area into fun activities for the kids to do. Also, the best form of learning happens when the child has independence in terms of thought process and also the opportunity to act upon the material at hand. This is precisely where Wonderboxx comes in.'
Mehak Ahuja, mother of a 3 year old said, "It is extremely important to create an environment to support young children's creativity and creative learning. Through play and imagination, a child can fulfill wishes and overcome fears of unpleasant experiences. As a young mother I have to assure that positive play experiences and holistic learning leads to positive emotional well-being of my child. WonderBoxx is indeed a wonderful opportunity for my kid to instill the act of self-expression."
WonderBoxx is designed with a vision to ensure initiative from children. It aims at instilling curiosity and creativity to help the children develop into life-long learners. The toys, games, concepts, ideas, materials, activities, techniques and knowledge in every box is made such so that the child learns instinctively by playing and experimenting, breaking and making, constructing and creating, and tinkering and exploring.
At WonderBoxx, we are a team of parents, pedagogy experts, product designers, illustrators and children's authors and we design age specific hands-on learning tool-kits for children aged 1 to 8 and deliver them to our customers' doorsteps. WonderBoxx products are designed to inspire creativity and pique curiosity in the little ones.
Each WonderBoxx is centered on a theme and contains two to three expert-reviewed toys, three to four Do It Yourself activities, one board book / comic book illustrated by some of the best illustrators in India, one visual encyclopedia and a newsletter containing expert advice for parents – presented with a slice of humor.
WonderBoxx was launched in April 2015, and works on the subscription model where customers can subscribe to the product for a period of one, three, six or twelve months.WonderBoxx is currently available for 3 age groups:
The tiny toddlers – 1 to 3 year olds. The boxes for this age group are designed to spark imaginative and constructive play
The preschoolers – 3 to 5 year olds. The boxes for this age group are designed to inspire children to explore, create and learn
The little explorers – 5 to 8 year olds. The boxes for this age group are designed for the child to lead innovation and discovery
The diverse team at WonderBoxx has alumni from some of the best educational institutions across the world including Brown University, TU Delft, IIT Kanpur, National Institute of Design, St. Stephen's College and Tata Institute of Social Sciences and has people with work experience in organizations such as McKinsey, Amazon, Clinton Foundation, NDTV, Discovery Kids, Schlumberger, and TaxiForSure.
Comments
comments