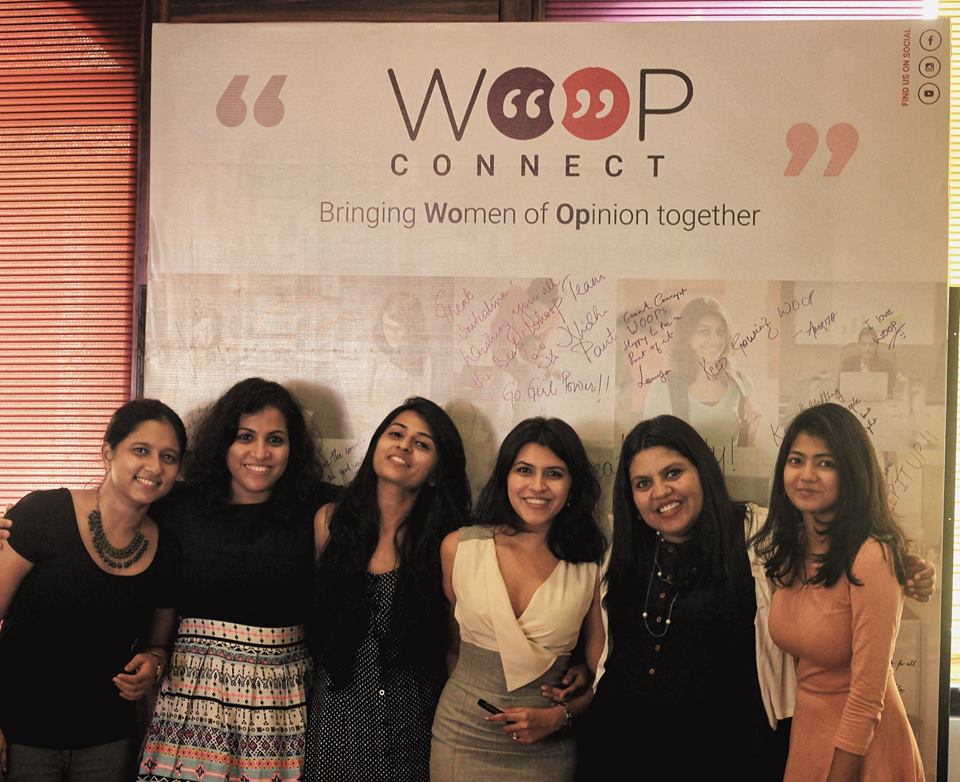 During her tenure at Procter & Gamble where she managed influencer-marketing, Rashi Mittal Nair came across an interesting finding in research conducted among women in India.
When women were asked which cause they felt most strongly about, 'helping educate a girl child' came out as a resounding winner. And yet very few women were actually doing something for the cause they cared so much about.
Rashi wanted to help make it easy, fun and rewarding for these women to support their favourite cause, and that was the birth of WOOP.
WOOP is a community of 'Women of Opinion' that engage on a gamified platform to do High-ROI actions for their favourite brands (like share reviews, referrals & recommendations). They exchange their time and actions for WOOP points, which can be redeemed for exciting rewards (like product hampers and unique experiences).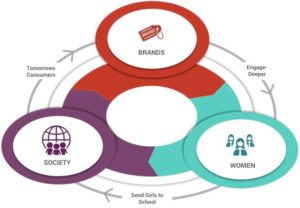 In addition to the rewards, for every 500 WOOP points earned, they help a young girl with 1 day of school via WOOP's Charity partner Nanhi Kali, thus creating tomorrow's women of opinion.
WOOP was launched in India on 25th July 2017 and is already helping 15+ brands get authentic word of mouth including Cipla, Glenmark Pharma, Kimberly Clark, Godrej Appliances, Eureka Forbes, Kaya, Pretty Secrets and many more.
Through its various partners, WOOP currently offers brands access to over 8 million women looking to engage with brands in a meaningful way. Points earned by women on WOOP have so far helped generate over 50,000 school days, and counting.
Check out a quick video on HOW WOOP works
The Power of WOOP
In a world where people trust friends & family (more than they trust brand advertising), WOOP helps brands get Authentic Word-of-mouth from Real Consumer Advocates in a measurable, scalable manner.
Most brands today recognize the power of consumer advocacy. According to a study done by Nielsen, 92% of people trust family and friends over advertising. An advocate is worth 5 times more than a regular consumer and more than 93% consumers look for UGC (user generated content) before making purchase decisions.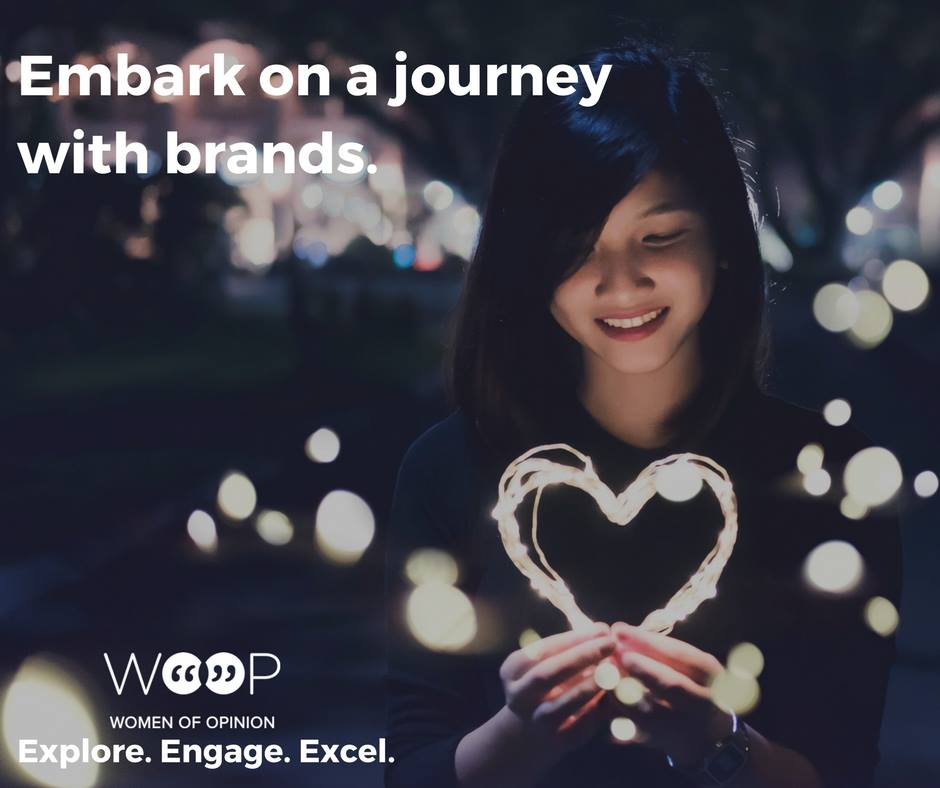 Brands are well aware of the efficacy of peer-to-peer conversations and more of them are now beginning to strengthen consumer's trust in their brand by identifying and leveraging real consumer conversations.
WOOP is a gamified platform built on consumer psychology and proprietary-technology that gives brands ready-access to a community of real consumer advocates that are happy to engage deeper with brands. WOOP offers brands access to both the community and the platform in order to drive authentic and real word of mouth for their brands, at scale.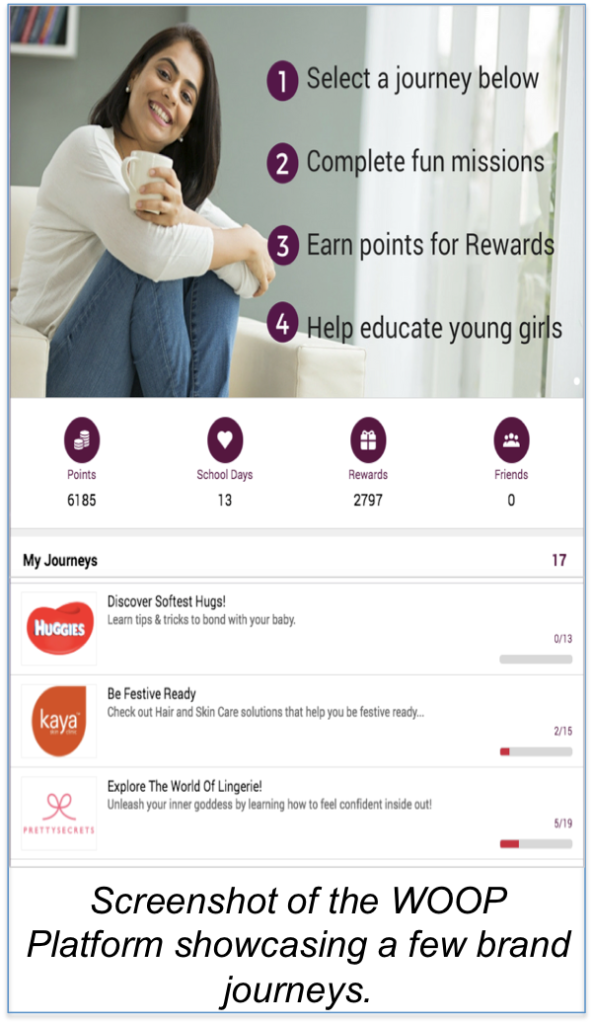 Actions that WOOP can help drive for brands include Reviews, Recommendations, Social Media Shares, User Generated Content (Images, Stories, Videos), Collection of Insights, Friend Referrals, Education, Walk-ins, Sampling and much more – All available at the click of a button.
In a nutshell, WOOP is a Unique Value Exchange Platform where everyone wins – Women get the opportunity to win rewards in exchange for their time and opinions; Brands get authentic word of mouth from Real consumer advocates at scale; And the society gets more funds to help young girls study better. Marketing to women is now a force for good that creates unique socio-economic value.
Here is what a few women on WOOP have to say about it
Check out what brands are saying about WOOP
The Founder: A Woman of Opinion
The passion towards women's education started long ago for Rashi Mittal Nair. As a young girl, Rashi spent too many of her high school vacations teaching English to girls at orphanages. At Procter & Gamble Rashi also took on the responsibility of their CSR project "Shiksha" and helped various NGOs create better opportunities for children.
Rashi also helped manage the Public-Private-Partnership Project Parivartan where she worked with the government to distribute low-cost sanitary napkins that ensured girls didn't miss school.
In 2007, Rashi adopted two lovely, bright girls whose education she has been supporting since then. There was no cause better suited for Rashi, than to help even more girls get a meaningful education.
Rashi has over 12 years of experience in word-of-mouth marketing. She started her career with Procter & Gamble where she handled influencer marketing for Beauty, Grooming, Household care, Health & Hygiene brands.
The one thing common across all brands, was its primary target audience – the woman. Even for the male-oriented brands she handled like Gillette, the influencers were still women. So starting a community like WOOP for women and brands was a natural fit.
Before starting the company, Rashi founded and ran a word of mouth marketing consultancy called Brand Ripples that helped brands inspire conversations that multiply. Rashi has also spearheaded the word-of-mouth campaign for a political party in the Lok Sabha Elections of 2014 at Pune.
Here is a quick video on the founder talking about the Birth of the company and what she loves about it.
2 million school days, here we come
From Rashi's dining table as their office space to a lovely co-working office space at Worksquare in Powai, WOOP has seen significant growth in just a few months.
It has got partnerships in place that help brands get access to over 8 million women in India. It already has 15+ brands on board with a good mix of Top Multinational companies as well as start-ups.
A lot of its current clientele include brands looking to engage with pregnant women, new moms, mothers with older children, as well as young-college going girls. WOOP also has a unique pay for performance model based on Actions that are important to brands like Reviews, Referrals and Recommendations.
WOOP is continuously working towards improving the user experience for the women on the platform. The WOOP product will also see a significant upgrade in the coming weeks, which should make it even more easy and fun for women to engage with brands on WOOP. That means more women, more brands, more actions and more school days!
Till date WOOP has helped create over 50,000 school days and counting. By 2020 WOOP hopes to generate 1 billion engagement points, which will create 2 million school days and educate over 10,000 young girls. Here's to making this world a better place, one brand-conversation at a time. Lets WOOP!
P.S. WOOP is HIRING!! So if you TOO believe, that community-marketing is the future of marketing, drop Rashi a note at rashi@woopworld.in