As reported first by TechCrunch, the site disclosed that Merriam-Webster had bought Quordle, the word-solving game that had gained popularity around the same period as Wordle. Instead of existing on its own, the game now resides immediately on Merriam-Webster's website.
"I'm delighted to announce that Quordle was acquired by @MerriamWebster," a post on Quorlde's Twitter account reads. "I can't think of a better home for this game. Lots of news features and fun to come, so stay tuned!"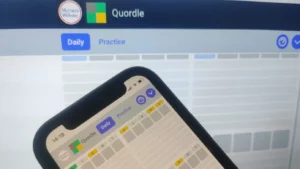 Among the various offshoots of Wordle, which encouraged users to publish their results on Twitter and contest against one another to correctly spell the day's term with the fewest attempts, is Quordle.
Quordle quadruples its complexity by asking users to answer four five-letter words at once with nine attempts, in comparison to Wordle, which offers you six guesses to find out a five-letter word. Everyday puzzle words are provided in both games.
The New York Times bought Wordle last year for an unknown seven-figure amount, adding it to the publication's current choice of crossword puzzles and activities. Wordle was developed by Josh Wardle in 2018.
Since Wordle didn't have an application at the time, Apple struggled to prohibit replicas of the game from emerging on the App Store. Heardle, a Wordle-like game that offers you five attempts to identify the title of a song based on progressively longer samples, was designed by Spotify to monetize on the craze.
More on Wordle:
Josh Wardle, a Welsh software programmer, designed and created the online word game Wordle, which the New York Times Group has owned and distributed since 2022. Players are offered six chances to predict a five-letter word.
For every guess, participants received feedback in the shape of colored tiles that indicate whether the letters match or are in the right location. The Jotto strategy game from 1955 and the Lingo game show franchise' gameplay are largely similar. In Wordle, there is only one everyday result, and everyone strives to predict the same term.