Unexpectedly, a story about a hypothetical cage combat match between tech heavyweights Mark Zuckerberg and Elon Musk has surfaced. This creative scenario, which is trending on social media, has aroused curiosity and enjoyment. Despite being wholly fictitious, it's worthwhile to investigate the imaginative plot that has captured the internet community.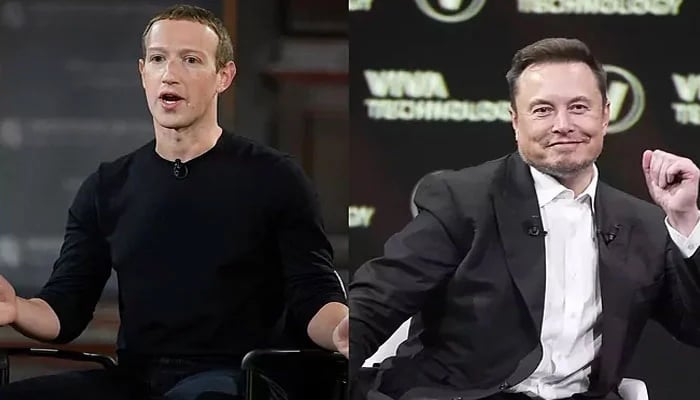 Credits: GEO NEWS
The "Challenges" Emerge
The story opens with a series of joking challenges and boasts traded between Elon Musk, the imaginative CEO of firms like SpaceX and Tesla, and Mark Zuckerberg, the head of Meta Platforms (previously Facebook). The conflict is focused on the expected cage fight that is allegedly coming up.
Verbal Sparring on Social Media
The drama mostly takes place on social networking sites. Musk's statements are refuted by Zuckerberg on his freshly released application, Threads, who asserts that nothing Musk has claimed is true. His expression of annoyance at Musk's seemingly pointless regular updates is obvious from his statements. Zuckerberg responds with a tone that calls Musk's bluff and is tinged with humor.
Details Unfold: Italy as the Venue?
Musk inserts an unexpected curveball into the fun conversation by saying that the fictitious fight will take place in the renowned Colosseum in Italy. The innovative story is given a new dimension of mystery by this turn of events, which heightens fans' interest.
Zuckerberg's Call for Professionalism
Zuckerberg underlines his desire for professionalism and spectacle, expressing his preference for the participation of reputable companies like the UFC or ONE Championship. This demonstrates his dedication to making the fictitious event spectacular and unforgettable, should it ever take place.
Musk's Unilateral Moves
In this made-up story, Musk's persona appears to be acting alone and this causes conflict between the two fictitious rivals. The fake dispute gains some authenticity from Zuckerberg's evident displeasure with Musk's choices.
Fans' Reaction: The Billionaire Brawl Fantasy
Fans are riveted as the fictitious drama progresses with the envisioned billionaire brawl. Despite the fact that the scenario is completely the result of creative fiction, the online community is excited and amused by the enticing notion of watching two tech titans fight it out in a cage.
Companies Involved: Meta and SpaceX
Previously known as Facebook, Meta Platforms is the organization behind well-known social media platforms like Facebook, Instagram, and WhatsApp. Meta has been at the vanguard of reshaping the digital landscape under Mark Zuckerberg's direction.
On the other side, Elon Musk's creative leadership of SpaceX has changed space exploration and travel. The company's bold plans to colonize Mars and open up space travel have attracted attention from all over the world.
Impact of the Imaginary Move
Although the imagined cage fight is solely a product of the author's mind, it illustrates the importance of narrative and viral content in the modern world. The creative scenario caught people's attention on social media, illustrating the power of this type of material to entertain and engage viewers.
Additionally, this made-up story illustrates the traits ascribed to these computer billionaires. In his approach to business, where he has continuously sought innovation and scalability, Zuckerberg has consistently aspired for professionalism and majesty. The story's judgments made by Musk on his own are consistent with his history of risk-taking and original thought.
Conclusion
The narrative of Mark Zuckerberg and Elon Musk's made-up fight in a cage is a fascinating illustration of how imagination-stoking creativity and storytelling can captivate an online audience. Even though the premise is completely fictitious, it provides a fascinating lens through which to view the characters and strategies of these computer giants. Fans' interaction with this lighthearted story serves as a reminder that the digital age has an unrivaled capacity to enthrall, amuse, and provoke debates—even in the world of fiction.