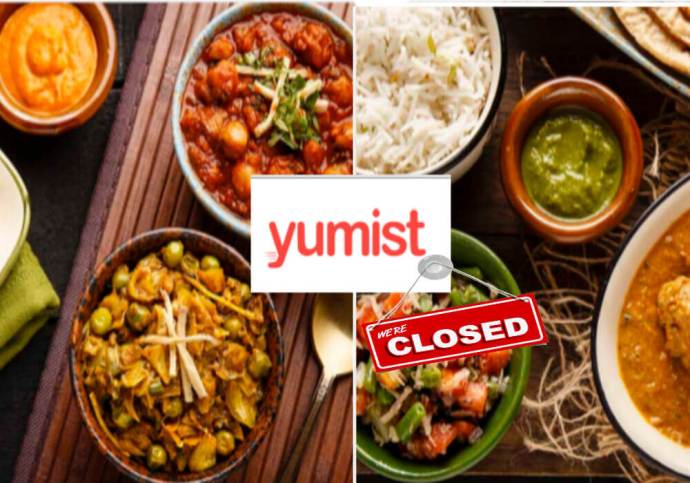 Founded by ex-CMO of Zomato, Alok Jain, Yumist was supposed to be a service that would help clear the clutter in the food delivery space. Jain began the venture with Abhimanyu Maheshwari who has had his own share of professional experience in the Indian food and beverage sector.
What Was Yumist?
Yumist was a company that was venturing into food delivery in 2014. Their initial brand offering was:

"We make delicious, homely meals available in under 30 minutes through the use of technology and a sophisticated logistics infrastructure."

Their main point of differentiation was that instead of focusing on restaurant delivery only, they wanted to venture into delivering comforting, simple, and home-cooked meals. But, with the home-cooked meal aspect, they didn't want to source it from a restaurant. Yumist wanted to prepare it.

What They Envisioned

Yumist was not the first company to do food delivery in India. Many companies were rapidly growing at that time, but no company had established a monopoly in 2014 for a tech-enabled food preparation service.
There was a lack of proper ordering system, kitchens system, customer servicing, logistics, and tracking service in one package in the Indian ecosystem. Each company that dealt with delivery would only fulfill maybe one or two of these requirements and not all. Thus, there was a scope for rapid growth.

The two founders of Yumist were certain that the food tech industry was the domain that would be the future of start-ups, at least for the Indian companies. And seeing the way the landscape has developed and been adopted by consumers from 2014 to 2018, we know they weren't wrong.

Growth

In 2015, Yumist as a company was located and operational only in Gurgaon. Because their focus was also on food preparation, they had a central kitchen situated in Gurgaon where food would be prepared. This would be transported to the fulfillment centers across the city and then be delivered to the customer.

They had plans for expansion on the cards and soon, opened another headquarter in Bengaluru. By the March 2016, they had plans to scale up to 5 cities including Mumbai, Pune, and Hyderabad and by 2017, they would expand to Chennai and Kolkata too.

Funding

For a company that had plans for the next few years in the pipeline, what did not cooperate was their funding rounds. They had only 2 of them. Their first Seed round took place in January 2015, which raked in USD 1 million.

The second round took place in December of the same year, which brought in double the amount raised in the first round, i.e, USD 2 million. The lead investor for this round was Unilazer Ventures.

By March 2017, the company was hitting profit margins at Rs.65 per order and had an average delivery time of 20 minutes. It was faring better than most.

So, for an idea that came at the right time to people with the right experience and with enough funds, why did Yumist not take off?

The Shutdown

In October 2017, Yumist (albeit expectedly) shut down its operations. In a detailed blog posted on the company's website, the two founders came clean:

"We failed to raise the kind of capital that this business required while staying true to the customer problem. In hindsight, there's a bunch of internal and external factors that led us to this dead end."

And they were right. Many would say that the primary reason for Yumist to shut down was that they were not able to gather the funding they needed. But, problems ran deeper than that, which made the company unappetizing to the future, potential investors.

Now, one of the main reasons was the expansions to other cities. Yumist was not only trying to expand to other cities but was also making efforts to ramp up capacity and space in its existing ones, which made it a high cash-burn model. The already present cities had a lot of scope for improvement. And adding new kitchen increased strain on the company.

"From launching in a second city prematurely, or committing to a high growth, high burn model just because prospective investors wanted to see that back in 2015, or taking a tad bit too long to find the right business model, we made our mistakes."

They wanted to expand to woo investors, but then their margins dipped which then drove away investors.

Another reason was that 2016 was an ominous year for the food tech industry as a whole. A lot of similar companies came up which led to a clog because of the competition – there were 150 food tech startups that came up. This confused investors, consumers, and thereby slowed the growth.

Many companies like iTiffin, EazyMeals, and Zupermeal shut down. Even giants like Swiggy which was showing tremendous year-on-year growth, went into losses instead of the predicted profits in 2016.

Thus raising money became tough for every food tech startup and only a few survived. The high cash burn and low cash inflow made sure that Yumist did not make the cut, no matter how competent the company was.

The Future

Yumist was one of the first companies in India to showcase the advent of the cloud kitchen. And the founders are still sticking to their guns and saying that even though the model hasn't caught on yet, that is where the future lies.

"Cloud Kitchens are here to stay. It's probably the case that the first one through the door gets shot. The problem we were trying to solve is a big one and we are certain someone will pick up from where we left. Our wishes and support are with them."

So far, Yummist is not showing signs of a resurgence nor it is moving ahead with the idea of a cloud kitchen with afresh company.

Its failure was a result of its circumstance, as much as it was of mismanagement. Many companies didn't survive the 2016 startup bust, and this company just happened to join the list.