1 April 2016, California : Apple turned 40 on Frid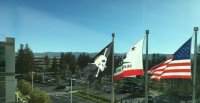 ay, and it's a very different company from the audacious startup that Steve Jobs and Steve Wozniak launched in a Silicon Valley garage in 1976.
Today, the maker of iPhones and Mac computers is the world's most valuable public corporation, with 100,000 employees and a new, multi-billion dollar headquarters in Cupertino, California, set to open next year. But despite its astounding financials — Apple reported $53 billion in profit on $233 billion in sales last year — some critics have suggested Apple's best years are behind it, as it has struggled to come up with new products and match the phenomenal success it has had in recent years.
The legend goes that the team working on the first Macintosh made the flag out of some old material, paint and an Apple logo decal they found in the office. They then hoisted it over the Mac team building using a makeshift flagpole without prior permission from Jobs. Luckily, he liked the flag and it remained a permanent fixture until the Lisa team took it down and held it ransom in an act of friendly rivalry.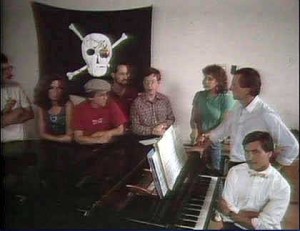 The Mac team managed to steal the flag back and the rest is history.
So for some who might see it as Apple just dangling a pirate flag at its office, the Jolly Roger has much deeper roots in Apple's computer history, signifying a time when Steve Jobs was leading true innovation despite the higher-ups being decidedly against him.
The flag flew at the campus for over a year before disappearing without explanation in the late 1980s and to this day, it hasn't been displayed again.
It's symbolic to see Apple celebrate its 40th anniversary and Steve Jobs' innovation by raising it at Infinite Loop today.