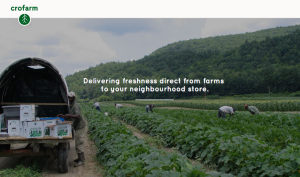 12 August 2016, India :
Technology-based agricultural supply chain Crofarm has raised $1.5 million seed funding from Mukul Singhal and Rohit Jain, former Principals at SAIF Partners.
"We plan to establish presence in tier-2 markets and hope to operate in 10 cities over the next year," said Varun Khurana, chief executive officer of Crofarm.
Crofarm works on a commission-based revenue model. The commission ranges from 5-7% for less perishable produce like potatoes & onions, 15% for greens & 20-25% for exotic fruits & vegetables. Khurana says produce with a longer shelf life is procured from national sourcing zones while easily perishable ones are bought from regional sourcing zones.
With Crofarm, farmers are able to earn upto 25% more than when they sell to the Mandis. Khurana hopes to have one lakh farmers and over 10,000 retailers on the platform.
"We hope to reach a stage where we will be able to direct farmers on the kind of produce that they should grow in keeping with rising demand," he said.
Also read-