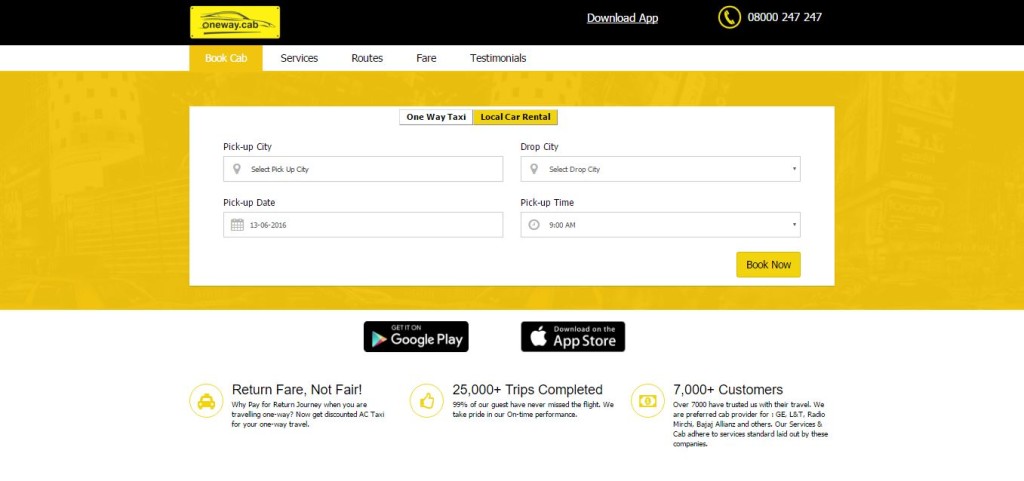 14 Jun. 16, AHMEDABAD: Gujarat-based taxi service OneWay.Cab has raised $450,000 (Rs 3 crore approx.) from its investor – Indian Angel Network (IAN).
With this investment, lead investor of IAN – Ajay Gupta, will join the company's board. Also, Abhishek Agarwal (director at Fortune Interfinance), and private equity investor at IL&FS Investment Managers – Rahul Mehta will provide mentoring.
The company plans to use the fresh capital for expansion, hiring and technology upgradation.
According to sources and reports by ET, Chief Operating Officer of OneWay.Cab – Devang Sanghvi, "After been funded, we expect to accelerate our growth in excess of 45-55% month-on-month".
Commenting from investor point of view, Gupta said – "Digitalisation is transforming all industries and we have seen the impact of digital in intra-city travel. Inter-city taxi (service) is a much larger market in India and it requires a very different mindset, organisation and technology than intra-city. OneWay-.Cab is best positioned in this space to tap the market."
OneWay.Cab was founded in 2015 by Vivek Kejriwal, Devang Sanghvi and Pankaj Gandhi. The company covers at least 100 one-way routes from Ahmedabad, Rajkot, Udaipur, Jaipur, Vadodara, Surat, Mumbai, among others.