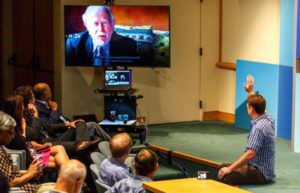 15 August 2016, USA :
Samsung is using IBM's TrueNorth chip to create a biologically inspired digital eye. TrueNorth is a neuromorphic CMOS chip produced by IBM.
TrueNorth is a manycore network on a chip design, with 4096 cores in the current chip, each one simulating 256 programmable silicon "neurons" for a total of just over a million neurons. In turn, each neuron has 256 programmable "synapses" which convey the signals between them. Hence, the total number of programmable synapses is just over 268 million.
Eric Ryu, vice president at the Samsung Advanced Institute of Technology, explained that the chip's performance is based on efficiency, not higher technological grunt, as reported by Cnet.
"There is a huge gap between biology and modern silicon technology," said Ryu, explaining that TrueNorth consumes only around 300 milliwatts of power, around a tenth that of a mobile phone processor.
IBM cognitive computing group lead researcher Dharmendra Modha said, " To underscore this divergence between the brain and today's computers, note that a 'human-scale' simulation with 100 trillion synapses required 96 Blue Gene/Q racks of the Lawrence Livermore National Lab Sequoia supercomputer."

"If we think of today's von Neumann computers as akin to left-brain-fast, symbolic, number-crunching calculators, TrueNorth can be likened to the right-brain-slow, sensory, pattern recognising machines," he added.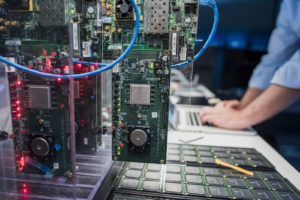 In terms of basic building blocks, its transistor count is 5.4 billion. Since memory, computation, and communication are handled in each of the 4096 neurosynaptic cores, TrueNorth circumvents the von-Neumann-architecture bottlenecks and is very energy-efficient, consuming 70 milliwatts, about 1/10,000th the power density of conventional microprocessors.Together they act like the brain's neurons, sending short messages to one another to process data.
Also read-