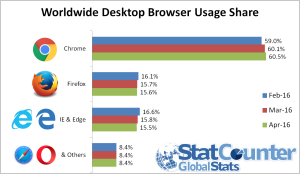 17 May 2016, USA :
Google Chrome sits comfortably on top of the table in the battle of the browsers, While Mozilla Firefox Firefox edged just ahead of Microsoft's Internet Explorer and Edge browsers for desktop users in April.
"Microsoft might have expected a boost to its overall browser share as the result of the launch of the Windows 10 with Edge but it hasn't happened to date," said StatCounter chief executive Aodhan Cullen. "Chrome has continued to gain share globally."
Mozilla's Firefox grabbed 15.6% of worldwide desktop browser usage in April, according to the latest numbers from Web analytics outfit StatCounter.
It's been reported that Firefox has been losing its share over the last three months, however, usage of Microsoft's Edge and IE browsers appear to be declining faster.
While the global figures show some adoption of alternative browser – UC browser, for example, comes in just below Firefox for desktop users – there is no evidence of any significant shift to browsers outside the top four. Only 3 per cent of desktop users were on Microsoft's new Edge browser, with almost 12 per cent sticking with Internet Explorer. Safari account for 6 per cent of traffic from desktops, with Firefox on 13 per cent and Chrome the runaway winner with more than 63 per cent.
There's no threat to Google Chrome, Yet.