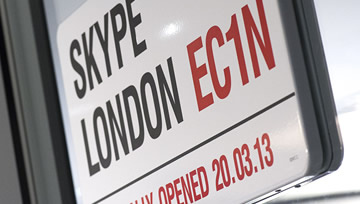 17 September 2016, USA :
According to the Financial Times (FT), the move by its owners Microsoft is likely to lead to the loss of many of the nearly 400 jobs at the London HQ.
Microsoft confirmed that some "globally focused Skype" roles were at risk along with those at another of its businesses, Yammer, as part of a plan to move all London-based employees to its base in Paddington.
Startup Skype was founded in London in 2003 before being acquired by Microsoft in 2011 for $8.5bn. Its retreat from the capital comes as a blow to Britain's tech industry as it fights to make the case that it is still open for business after Brexit.
"As part of this effort, Microsoft reviewed some London-based roles and made the decision to unify some engineering positions," the Guardian reported.
Sad to see @skype close it doors in the UK https://t.co/C2CkfJtQnF .@TechLondonAdv

— Russ Shaw (@RussShaw1) September 17, 2016
"This is disappointing. Skype is one of Europe's iconic technology businesses and a genuine 'unicorn' with an amazing pedigree of innovation and talent," said Russ Shaw, founder of industry group Tech London Advocates and previously vice-president of Skype Emea, who left when the company was sold to Microsoft.
Skype occupied three floors stuffed with the latest technologies and no shortage of places to connect, create and innovate. It was home to much of program management, design and software engineering/testing teams, who work on projects like migrating to the Cloud, our web client and Big Data. The relaxing space offered free food, table football, ping pong, pool and Xbox. Overall it seemed a fun place to work at.
Also read-