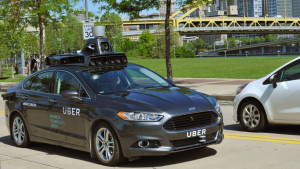 19 May 2016, USA :
Uber showcased the self-driving car that's been stealthily cruising around Pittsburgh.
The car is a hybrid Ford Fusion and is currently in early stages of safety testing.
"If you're driving around Pittsburgh in the coming weeks you might see a strange sight: a car that looks like it should be driven by a superhero," Uber wrote in a blog post announcing the testing.
Uber and Google (among others) have been racing to be the first to develop self-driving taxis for over a year now. Uber "cleaned out" Carnegie Mellon and the National Robotics Engineering Center to be part of its Advanced Technology Center in Pittsburgh, the research arm responsible for developing this "look ma, no hands" technology.
Uber also gave a reporter from Pittsburgh's Tribune-Review a ride in the car, the first time a member of the media has been allowed to see it in operation up close. The reporter, Aaron Aupperlee, had this to say about the experience:
The car drove itself over the 31st Street Bridge and along River Avenue on the North Side before turning around at the Heinz Lofts. The car will accelerate, brake, steer and perform other basic functions on its own. It switches out of self-driving mode with a loud beep if its sensors detect a car swerving into its lane or it encounters something it does not recognize or know how to negotiate.
The driver can take control of the car at anytime. The car's sensors detected parked cars sticking out into traffic, jaywalkers, bicyclists and a goose crossing River Avenue.