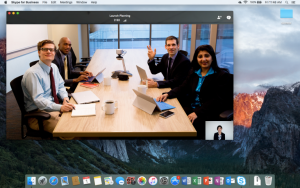 26 April 2016, USA :
Microsoft is getting serious with the Mac today with its new Skype for Business preview for OS X. The new business-focused version of Skype for Mac runs on OS X El Capitan and focuses on creating an enterprise-friendly experience. IT professionals can request access to the new Skype for Business Mac Preview starting today.
The company says the Preview build will be released in three stages, starting with today's launch, before the public version is made available.
Interested testers can visit SkypePreview.com to sign up for an invite. Once an I.T. admin receives their invite, they can then choose to share it internally in their organization with other testers.
In the next Preview release arriving this summer, Microsoft will add instant messaging, presence, and the contacts list. The third release will introduce telephony features. Without these features, Skype for Business for Mac is not something I.T. will likely want to roll out company-wide at this point. Instead, the idea is to simply start testing the software for issues and help offer feedback on what's working and what's not.
Image : techcrunch.com
Comments
comments