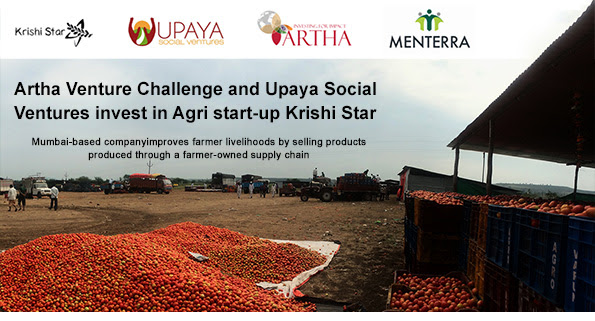 26 August 2016, India :
Artha Venture Challenge (AVC), Menterra Social Impact Fund and Upaya Social Ventures announce a co-investment in Mumbai-based Krishi Star, an agri startup dedicated to improving livelihoods for small farmers in India by building a food brand that sells products produced through a farmer-owned supply chain.
The Artha Initiative, under which the Artha Venture Challenge has been launched, has provided the company seed investment, while Menterra – which collaborates with AVC to invest in and incubate social enterprises in India – will support the company with strategic guidance to help grow the business. Upaya Social Ventures is co-investing in the company as well, along with 1to4 Foundation, a Swiss non-profit that invests in start-up and early-stage social enterprises, and a Mumbai based angel investor.
"Our vision is a scaled solution through which to improve livelihoods for the nearly 200 million people in India living in rural poverty. Our current strategy is for farmers to benefit in two main ways-first, the small farmers, as the owners of processing factories, would receive a higher stable form of income independent of the success of their individual harvests;second, the factories procure from the farmers and as such, create additional stable demand for the farmer's crops," said Bryan Lee, co-founder of Krishi Star.
Krishi Star is currently working with farmer-owned food processing units and has developed a product portfolio including tomato puree, whole-peeled tomatoes, and sun-dried tomatoes. The company is selling its products in Mumbai and Pune to hotels, restaurants, and catering groups.
"We have a particular interest in supporting the work of producers through the development of agri-processing, andwe have been delighted to see that Krishi Star has demonstrated great resilience and commitment to serving its core communities." Audrey Selian, Director of Artha Initiative.
Additionally, Menterra and Artha Venture Challenge are collaborating to co-incubate and co-invest in scalable agri-enterprises that can create impact on the lives of small and marginal farmers. Entrepreneurs running early-stage for-profit enterprises that help small and marginal farmers can get matched equity funding of up to Rs 60 lakh, high-touch mentoring from agri-business experts and access to networks and downstream investors.
Also read-
Comments
comments