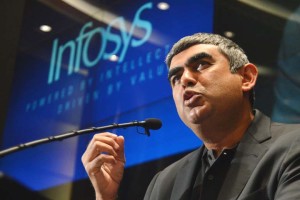 27 April 2016, USA :
Infosys will become the latest IT services giant to announce the introduction of a blockchain offering through its EdgeVerve Systems subsidiary today at its Infosys Confluence conference in San Francisco.
Blockchain is like a huge, decentralised ledger for bitcoin (digital currency) that records every transaction and stores this information on a global network so it cannot be tampered with.
Infosys said the EdgeVerve Blockchain is a permissioned environment, with an API layer that allows custom versions of the technology to be deployed, depending on the use case, country and jurisdiction. As well as payments and trade finance, the technology can be applied to invoice processing, digital vaults and syndicated loans.
Andy Dey, president, customer and operations, EdgeVerve, said: "Blockchain can offer significant opportunities to modernize legacy processes, reduce costs as well as improve operational efficiency and authenticity of transaction data. At EdgeVerve, we are making significant investments in this space that includes our research facility in Ireland and important financial industry partnerships. Several of the world's leading financial institutions are already collaborating with us to build blockchain powered banking applications and networks."
For India's largest software firms, betting on futuristic areas of financial technology is even more important, given that large banks and financial services organizations such as Citigroup, Bank of America, Goldman Sachs and JPMorgan Chase are among the largest customers for India's $160-billion IT industry and contribute well over 40% of the sector's revenues.
Banks and other financial institutions are increasingly investing in blockchain technology as it cuts their costs and make their operations faster and more transparent. Infosys said it is in discussion with over 10 institutions globally for deploying the solution.
Image : financialexpress.com