India's billionaire Adani and his enterprises announced on Tuesday that it is planning to increase the amount that it pays to the stockholders of NDTV who offered their shares in the conglomerate's open offer to approximate what it pairs the news broadcaster's originators for their stake.
An additional amount of 48.65 rupees will be paid per share of NDTV to the investors who sold their shares in the open offer that was held between 22 November and 5 December. Approximating what the founders of NDTV Radhika and Prannoy Roy paid, the payout was around 342.45 rupees per share.
"The Securities and Exchange Board of India's takeover guidelines are clear … Whatever price the acquiree gets, the minority shareholders also should get the same," said Shriram Subramanian, managing director of InGovern Research Services, a Bengaluru-based corporate governance advisory firm.
At rupees 294 per share, around 5.3 million shares were offered in the open offer. The head of the Adani group, Gautam Adani controls about 65% of the shares of the platform. He acquired a 27.26% stake from the Roys seven days earlier, which was four months after the launching of this takeover.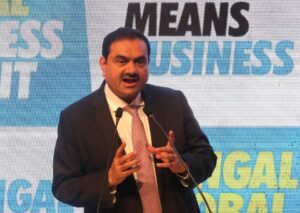 The NDTV platform, which was founded in 1988 was taken without consent as stated by the husband-wife owner of NDTV.
The takeover "was executed without any input from, conversation with, or consent of the NDTV founders".
The founders however sold a majority of their shares but possessed only 5% of the total stake. After the takeover, four independent directors including the Roys submitted their resignation letter from the board that was going to come into effect on 30 December.
Ever since Adani took over the platform in August, last year, the stock has been down by 20%. The last time it was up was 1.2%, and that is on Tuesday.
About NDTV:
In India's news television and digital journalism, New Delhi Television is and has been a pioneer for more than 25 years. Radhika Roy and Prannoy Roy founded NDTV in 1988, which is now the most popular, reliable, and well-respected news network in addition to a pioneer on the Internet.
About Gautam Adani:
Indian billionaire industrialist Gautam Shantilal Adani is the chairman and founder of the Adani Group, a global conglomerate specializing in harbour operations and development in India. He supervises the Adani Foundation as its president.
About Adani group:
The Ahmedabad-based Adani Group is a multinational conglomerate in India. Gautam Adani established it as a commodity trading company in 1988, with Adani Enterprises as its core.
Port management, electric power generation and transmission, renewable energy, mining, airport operations, natural gas, food processing, and infrastructure are just a few of the Firm's numerous commercial ventures. Adani Company comprises more than 100,000 people worldwide, both directly and indirectly.