With the idea of disrupting the Indian warehousing space through Automation, Addverb Technologies Pvt Ltd was established in June 2016. The Organization believes in Automation as the key to high levels of productivity, safety, and cost efficiency. Their highly efficient procedures and ideology helped them to foray into several industries. These include FMCG, Retail, Auto, F&B, Specialty chemicals & 3PL and entered into international markets along with strong domestic presence.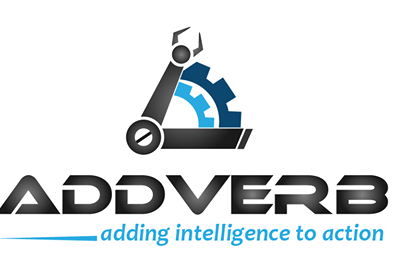 The demand for warehouse automation has increased rapidly due to the growth in Indian domestic consumption. This has led to the need for achieving the best operational efficiencies, safety, and environmental concerns while managing the supply chain operations.
Introduction to Addverb 
Addverb Technologies majorly divides its operations under three categories; Robotics, Warehouse Automation and Industrial Internet of things (IIOT). They leverage technologies like IOT, Machine learning, Robotics, ASRS, Shuttles, Artificial Intelligence, Augmented reality to make supply chain efficient and effective.
Inspiration 
Their idea is to make supply chain flexible for all the customers. They intended to disrupt the supply chain domain by providing Automation to the customers of all scales and sizes. Addverb is committed not only to realize the dream of "Make-In-India" but also intends to take Indian Engineering to a global scale by making Indian manufacturing competitive. This can happen only through Automation.
Typically, warehouses were perceived as cost centers, and the idea was to focus only on storing goods with all means possible. No focus was given on utilizing the space to store material optimally or to ensure content is retrieved from the storage quickly and efficiently. While these warehouses served the purpose to a certain extent, current business conditions necessitated the need for automation. After this realization also treading the path of automation was not easy as very few companies provided the available automation solutions. Moreover, none of them were from India and as such didn't understand the complexity of the Indian conditions. Their lack of knowledge of the diversity of Indian states further decreased their efficiency to work in the Indian market.
There was also the rise of e-commerce, organized retail, implementation of GST. All of this would be a trigger for a bigger box size warehouse and would lead to the strengthening of warehousing space. This has led many companies to embark on a journey of "Digital Transformation." Addverb has been a critical part of this transformation with quite a few companies from India and outside India. From digitizing their warehouses and factories with the latest technology to making the warehouse and factories a source of competitive advantage for the business.
Industry and Market
Currently, the market size for the automation industry for the estimated warehouse space of 919Mn Sqft (organized) is INR 1600 Crores, for 4.6Mn Sqft of automation space. The estimated growth rate for the warehouse space is 15% until 2020. This estimation is a result of the rising demand for Automation, both semi & full automation, and the total warehouse automation market size is INR 9100 crores. The major players in the Indian market are Bastian solutions, Godrej Efacec, Auto MHA, Daifuku, Schaeffer, to name a few.
With a wide variety of product portfolio, Addverb Technologies competes with different players depending on the category.
Their Target group of customers can be majorly categorized into three segments depending on the size of the warehouse:
Organizations with a warehouse space of
3000-30,000 Sqft
30,000-2,00,000 Sqft
2,00,000 – 500,000 Sqft
Most of these warehouses are based in seven cities across India – Delhi/NCR, Mumbai, Ahmedabad, Hyderabad, Bengaluru, Chennai, Pune, and Kolkata. The requirement for Automation will be different for each one of them. It will also depend on the industries with which these organizations are operating in.
Various factors, such as rising customer expectations, competition, and entry into new business lines, have had an enormous impact. These factors made it imperative for the businesses to adopt Automation as quickly as possible, which adds agility to the entire operations. Typically, Supply Chain and warehousing have been looked upon as a cost center by companies and are neglected. Not only to the companies, but this productivity loss is a loss to the economy as well. It is imperative to make these warehouses productive and flexible and to make the warehousing and factory working conditions favorable to work, and it is essential to use Automation.
For instance,
In a 1 lakh square feet Grade B warehouse, an operator would typically walk around for 11-12 km a day, which is not healthy. With the help of a Pick-To-Light, this operator would not need to walk such distances, and his productivity will also improve. More strenuous tasks can be automated with robotic operations, thereby making the job attractive to females as well.
So, if you see, Automation touches many aspects, and it is also about changing the entire manufacturing landscape. It's a true disruptor as it makes the warehouses and industries more flexible. A better workplace allows entry to females and DA people. Our country typically produces engineers who drive companies inside and outside India, but we do not have many companies who have engineering as their core. Addverb intends to build an Engineering company that will make Indian manufacturing competitive globally, and all its products and solutions work towards achieving this goal.
Challenges 
One of the biggest challenges for a B2B product startup is to get your first ten customers. Because of the current options and past precedents, many times, companies do not wish to go with new technology.
After realizing this, they changed their approach and started the concept of "Educating the Customer." For instance, typically, Indian customers used to talk about the warehouse space in sq. Ft. Terms, this leads to a mindset of utilizing the ground floor storage or look at solutions that focus on the movement of the ground floor only. But once you start thinking about your storage space in cubic feet, you realize the hidden potential of storage space. Moreover, you begin to focus on utilizing the height of the storage space as well. Height can only be used if you go for automation.
This leads to value unlocking for customers in the same space, instead of looking for new spaces. It helps them to utilize the existing space, thus saving on high rentals.  To drive home similar points, Addverb organized many workshops, and they actively participated in many supply chain related conferences of large conglomerates.

The primary objective of the workshops was to educate customers in technology. This further helped them to build an entire ecosystem and allowed them to partner with companies to create innovative and custom solutions, that would benefit the customer immensely. This would also make their customer's organization more prone to change and opens the opportunity for new technology adoption in the long run.
Information about the current team 
Three years since its foundation, Addverb Technologies consists of a large group that works together to achieve their idea of Automation. They have offices in Noida, Mumbai & Bangalore and have implemented projects across the length and breadth of the country apart from a few overseas locations.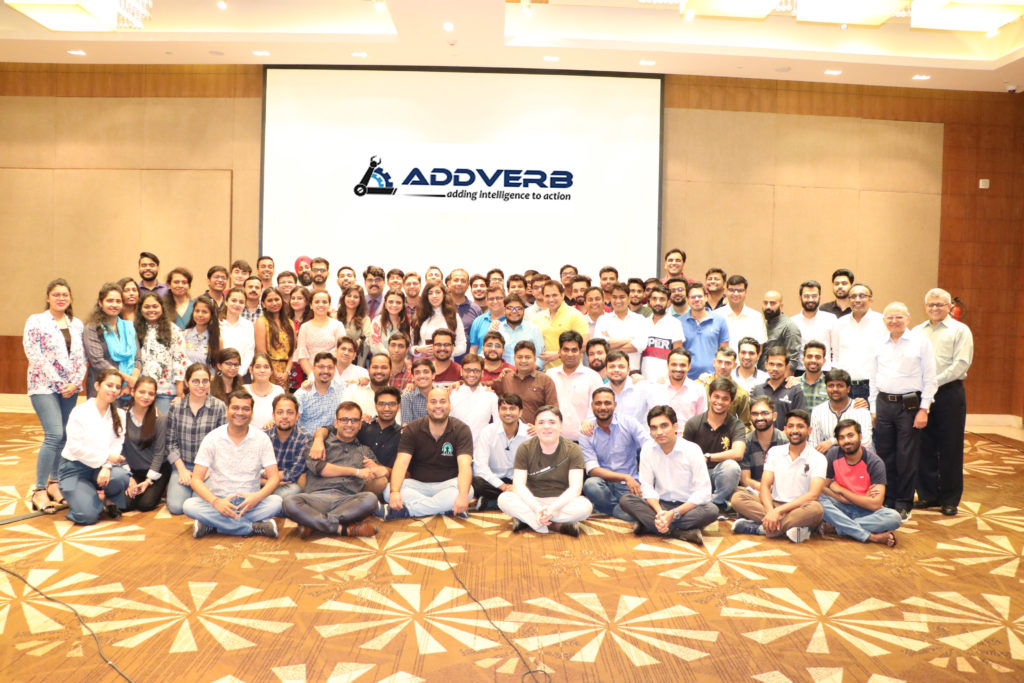 With more than 60 installations across the world and a strong customer base of companies like Coca-Cola, Reliance, J&J, Marico, and ITC, Addverb has shown phenomenal growth and has leaped ahead of its competition.
Strengths of the company
Certain aspects allowed them to not only sustain in the market but to also grow as an organization. These were their strengths. Let's have a look –
Strong management team with rich experience – The employees are passionate and have a good background in technology and operations. Their skills make it easier for them to understand the problems and design the best solution
Diverse product portfolio – All automation needs under one roof. Like Pick-To-Light, Pick-By-Voice, Pallet Shuttle robot, Carton Shuttle Robot, Mobile Robot, Sorting Robot, ASRS, Warehouse Control System, Warehouse Management System, Robotic Picking, etc
Strong client base, which brings much credibility about their solutions
Team: In-house R&D team, multi-disciplinary team of mechanical, embedded, electrical and software engineers
Make in India proposition – One of their most substantial aspects is that their solutions are customized according to the Indian warehousing conditions. This gave them a robust domestic presence
Presence across all the geographical regions of India; is planning for rapid expansion to outside markets
Opportunity and addressable market 
The rise of organized retail; E-commerce shall lead to the establishment of bigger warehouses across the country.
The increased cost of land, land rentals and constant issues are cropping up. Land acquisition will prompt industries to increase the scale in their existing warehouses through efficient space utilization, which leads to Automation.
The government intends to spend on infrastructure by creating freight corridors through rail and road and plans to invest in Ports. This will create colossal warehousing hubs again leading to significant spend on Automation
Government has been leading the initiative of 'Make in India'. It is attracting investors from outside India to invest in manufacturing facilities, thus giving a push to increased use of Automation.
Future of Addverb
The future seems very promising for Addverb as they look forward to expanding their horizon outside India.
The pre-series funding of 1 Million USD helped Addverb to focus on getting talent for specialized fields and enabled them to build a high-quality manufacturing facility. It was instrumental in helping them scale up their operations in and outside India.