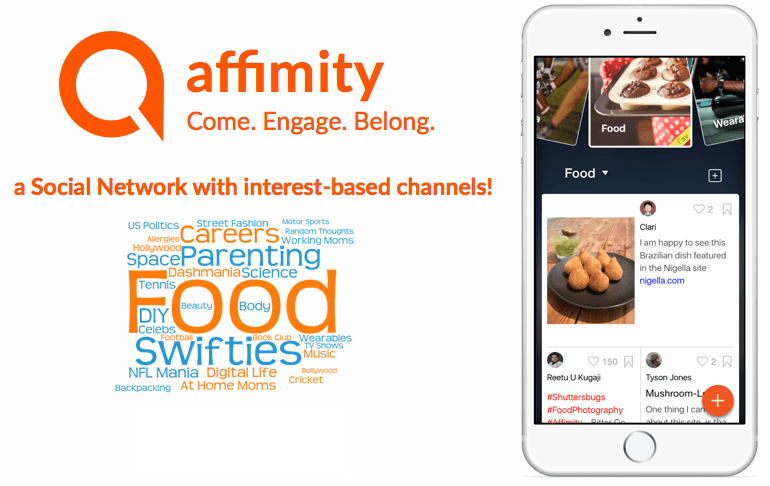 10 February, 2016, Bangalore: Bengaluru and San Francisco based social networking startup, Affimity announced that it has raised US $1.2Min angel funding from Silicon Valley Angel Investors and Founders. The company will use the raised funds to further expand its services in India and other countries and strengthen its team to complement their capabilities.
Affimity is the next step of evolution for social networking which provides a platform for like-minded people to meet and engage with. With its channel-specific approach, the platform acts as an alternate social media platform for users to focus on their passions and specific interests, filtering out the background noise and only displays posts that are relevant to the users' interest.
Sharing his views, Parveen Mittal, Co-founder & Country Manager – India said, "This is an exciting moment for us. We have seen a tremendous growth over the last few months and we consider this to be the right time to scale our operations in order to strengthen our position as the number one platform of choice for anyone looking to share his interests with others."
"Our immediate plan is to provide better content and community experience as we reach out to more people. We are continuously adding channels as well as customizing each of them to suit the requirement of that particular community," Mittal added.
Brainchild of Venkata Ramana, Amar J Singh and Parveen Mittal, the idea for Affimity came about when one of the founders faced an interesting dilemma. Being an older parent to twins when most of his friends' children were in schools and colleges, he reached out to find a community he could interact with to share the joy of parenthood.
Since its inception in 2014, the startup currently has 35+ channels on its platform with very good organic growth. The Android and iOS apps have had hundreds of thousands of downloads and has received excellent reviews owing to its unique brand proposition. The company aims to reach a target of 10 million global user base by December 2016, with India contributing to about 40 per cent of that user base.