Akasa Air, owned and operated by SNV Aviation Private Limited on Monday unveiled uniforms for the Akasa aircrew. The company shared on Twitter images of the uniform which is reportedly made using recycled polyester fabric.
#AkasaCrewLook | Comfortable, Eco-Friendly & Fun.
Presenting the all-new Akasa Air crew uniforms designed to keep our organisation's core value of putting the comfort of our employees and the environment first. Read More: https://t.co/aAmFbywJIa pic.twitter.com/T9jmztMNb7

— Akasa Air (@AkasaAir) July 4, 2022
From the images shared by the company on Twitter, the colours and designs of the uniform are very relatable to people who in future will use the airlines. According to the company, the uniform of the airline crew has a modern design which keeps in mind youthfulness and colours relatable to warmness and friendliness.
Reports suggest that Akasa Air would be the first airline company in the Indian airline industry to see custom trousers, sneakers, and hackers for airline crew.
The designs and colours are expected to make customers feel more at home when they travel with the crew.
Comfortable and Aesthetic Uniforms
The company also stated that the designing and manufacturing of the uniforms were executed keeping in mind the comfort of crew members who will have to stay long hours in the uniform on long flights.
As the crew would be standing for long hours during long-distance flights, the sneakers to be used by the crew are designed in such a way their legs have improved comfortability and support.
Comfortable and aesthetic uniforms could increase the good feeling inside the aircraft for both passengers and crew, which will increase in-flight efficiency.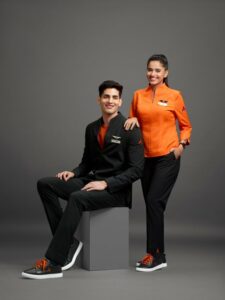 Belson Coutinho, who is co-founder and chief marketing and experience officer at Akasa air, said that the uniforms got designed keeping in mind that the crew felt both proud and comfortable. Thus, they can direct the same comfortability, and warmness to wards passengers of the airline.
Sustainability Wins
The new uniforms, according to accompany, are made out of recycled polyester fabric which got obtained from pet bottle plastic extracted from marine waste. This is part of companies efforts to sustainable in its operations. Uniforms are also exclusively made for Akasa Air.
Soles of sneakers to be worn by the crew are manufactured using recycled rubber and without any amount of plastic in production.
About Akasa Air –
Akasa Air founded 6 months ago in December 2021 is based in Mumbai, Maharashtra.  Rakesh Jhunjhunwala in July last year bought a 40% stake in the airlines by investing nearly 35 million dollars.
The airline received NOC from the Ministry of Civil Aviation, India, in October 2021.
On June 16th 2022, Akasa Air received its first Boeing 737 Max 8 and is expected to start services by end of this month.
Comments
comments