Gambling has been a documented part of daily life for centuries. The activity has certainly experienced its fair share of popularity swings, but overall, it remains a popular pastime for many. Today's gambling experience is sometimes very different from the in-person gambling houses of the past. Many contemporary players want the ability to choose their own casino experience from two main options: online or in-person play. This preference for the convenience of choice is poised to grow in the future, especially as more and more people become accustomed to working from home and spending more time on their computers. Simply deciding where to play isn't quite enough of a choice, however, and most players also want to decide how they fund their accounts and withdraw their winnings.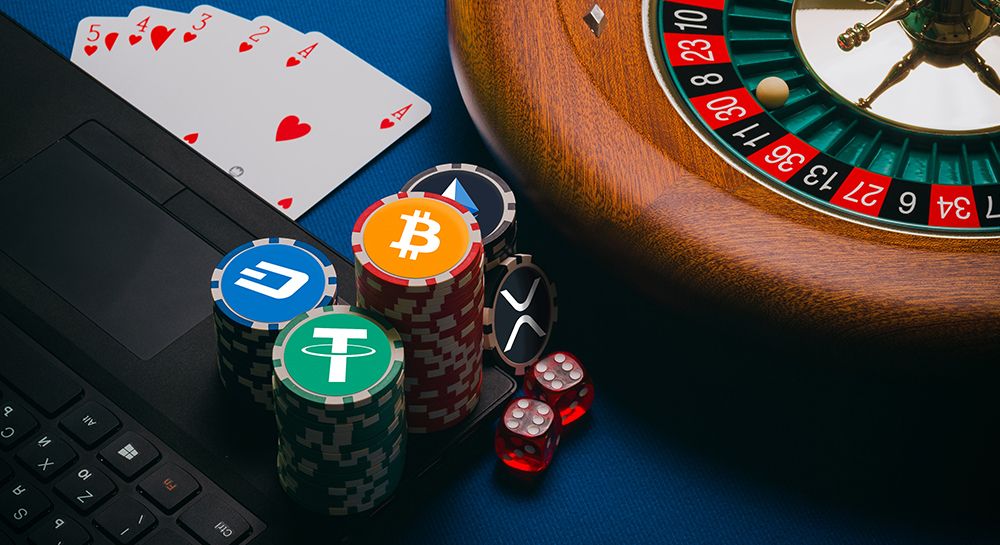 Cryptocurrency is an up-and-coming payment method that is growing in popularity. The payment method, particularly Bitcoin, is an increasingly popular payment option at online casinos. This article will explore cryptocurrency payments at online casinos and what to expect when making them. 
Cryptocurrency growth statistics
Before we dive into how you can use cryptocurrency at your favorite casino, let's talk about why you might be seeing a lot more cryptocurrency payment options in the future. A decade ago, the idea of digital tokens as money was something relegated to a few select populations. Since then, the currency has steadily grown in influence and reach, with more than 20% of American adults owning cryptocurrency as of 2022. This measurement includes all cryptocurrency tokens, or at least those publicly available for everyday use. 
Cryptocurrency has yet to hit its peak market saturation. In fact, cryptocurrency revenue is expected to grow by 14.36% per year, with the projected total amount worldwide being roughly $73bn by 2027. With the currency expected to continue to grow dramatically over the coming years, it makes sense that the number of people using it for all kinds of transactions will also continue to rise. This means that the number of people who want to pay for their online gambling using cryptocurrencies will gradually increase. 
What does this mean for online operators? Many are opting to include cryptocurrencies as payment methods sooner rather than later, with a growing number of big names in the industry adopting popular tokens such as Bitcoin, Litecoin and Ethereum, among others. 
Which cryptocurrency should I use?
With so many cryptocurrency tokens on the market, you might be confused about which one is the right option for you. Sticking to the popular options mentioned above, such as Bitcoin, might be the best choice for new users as they are the most widely accepted coins around the web. You can always use a different token later once you are more familiar with cryptocurrency. 
How do I conduct cryptocurrency transactions at my favorite online casino?
The good news is that using cryptocurrency can be a quick and safe process. First, you must ensure that the casino in question accepts cryptocurrency as a payment method. Visit the casino's cashier page, often referenced as a 'banking' or 'deposit' page, to find a list of available payment options. 
If the casino offers the currency, you might see a few different things. First, the operator might list the specific coins it accepts. These most often include Bitcoin, Ethereum and Litecoin, though other tokens are quickly increasing in popularity. The operator might also list a cryptocurrency payment service such as Tether. If you still aren't sure after checking the cashier's page about the kind of currencies accepted, reach out to the casino's customer support team for additional information. 
If the operator accepts cryptocurrencies, the next step is to acquire tokens to use. Most casinos will direct users to third-party 'wallets' such as the aforementioned Tether or Skrill. You will need to sign up with the provider and purchase tokens through them in order to fund your casino account using cryptocurrency. Navigate back to the casino's cashier page, enter the amount of funds you want to deposit (this is usually input as the operator's currency of choice and translated to the proper cryptocurrency coin value by the third-party wallet), and click the 'deposit' button. You will likely be prompted to sign into the cryptocurrency wallet of your choice or to link your wallet and casino accounts if this is your first time using the currency. Once this has been completed, the money should pull from your wallet and fund your casino account. 
Note that withdrawing funds via cryptocurrency should be much the same process. You will enter the funds you would like to withdraw and then initiate the transaction on the cashier page. The money should then be transferred to your cryptocurrency wallet. 
Cryptocurrency pros and cons
You know how to use cryptocurrency at your favorite online casinos, but we haven't discussed why you might use it. There are a few different reasons to pick cryptocurrency over more traditional currencies.
Processing times
The first thing to note about cryptocurrencies is that their processing times are generally very quick. This is not always true, of course, but players using this payment method typically receive their cashouts much more quickly than other players. In fact, some of them receive their funds immediately! Compare this timeline to that of more traditional payment providers, which can range from two business days to multiple work weeks, and you can see the appeal.
Security
Another reason why cryptocurrencies are increasingly popular around the internet is their security. Cryptocurrency transactions are often safer than traditional money transactions because the funds aren't tied to personal information. When you use your debit card, your name and address are tied to it, as is the banking institution that issued it. When you pay using cryptocurrency, on the other hand, your personal information remains confidential. 
Are you ready to jump into online gambling and give cryptocurrency payments a try? Keep the information above in mind and you'll be paying like a pro in no time!