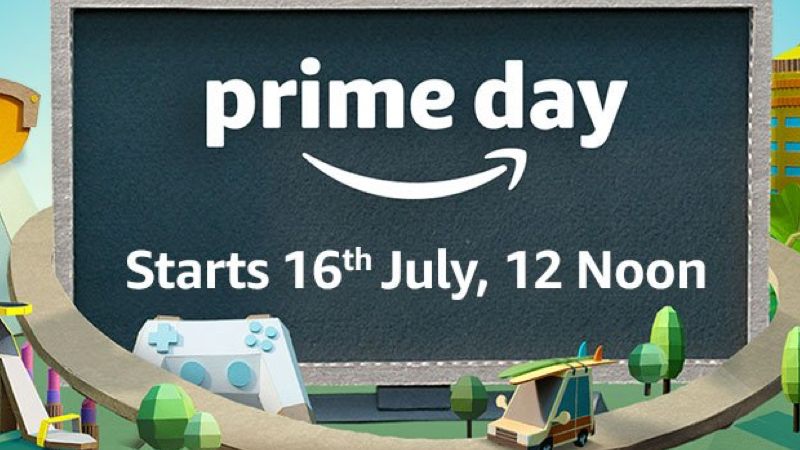 Amazon India Prime Day is going to come. It is an exclusive annual event available for the paid Amazon Prime Subscribers for some of the amazing offers and deal. If you are the Prime member of Amazon, then you can easily get thousands of amazing offers and saves lots of money.
You need to sign up fully for the Amazon Prime Membership. You can read more about it here.
When is Amazon Prime Day 2018?
Amazon prime day is an event which is organized by Amazon for its Prime users with lots of huge online sales. In India, it is going to start from 16th of July and run until 36 hours from midday. Amazon is also going to launch 200+ more products exclusively on this day for its prime users.
Where are Amazon Prime Day 2018 Deals Available?
Amazon Prime day event is available in some of the selected countries like India, Singapore, US, UK, China, Belgium, Australia, Austria, Netherland, Luxembourg, Italy, Spain, Mexico, France, and Japan.
Best Amazon Prime Day 2018 deals on Amazon devices
You will get Rs 499 cashback on Amazon Fire TV stick and save lots of money on Echo devices.
Best Amazon Prime Day 2018 Deals on Smartphones
You will get a 40%-50% discount on some of the selected smartphones.
Best Amazon Prime Day 2018 Deals on Book Readers
You will get up to 70% discount on some of the selected ebooks, entertainment and more.
Best Amazon Prime Day 2018 Deals on fashion
You will get a 50%-80% discount on some of the selected fashion brand which includes Puma, Biba etc.
Best Amazon Prime Day 2018 Deals on Electronic
You will get up to 50% discount on some of the electronics product.
Best Amazon Prime Day 2018 Deals on home appliances and Accessories
You will get up to 70% discount on some of the home of the household products and furniture.
Best Amazon Prime Day 2018 Deals on Family Essentials
You will get minimum 30% off on some of the family essentials products.
Amazon Music Unlimited
There is a huge discount which is available on Amazon music unlimited. You will get around 4 months of music streaming at just Rs 999/year, which will give you access to listen to around 50 million tracks from some of the biggest artists.
There is also an option to download songs and albums for offline playback too with totally ad-free. It also works well with the Amazon echo device which lets the user ask Alexa to play the music of your choice. It is now also available on a wide range of devices which include Tablets, mobiles, and desktops.
Kindle Unlimited
With this Amazon prime day, you can get an unlimited trial at free of cost for three months which will give you access to read more than 1 million Kindle books in one go. You can access the book via the Kindle app on a tablet, desktop, or a mobile.
Amazon Prime Day 2018 Tips and Tricks
Get an Amazon Prime free trial to get the exclusive deals and offers.
Amazon prime cost Rs 129/month, and you can sign up for a free 30-day trial period to get the exclusive deals. One of the best parts is that you can cancel your Amazon prime subscription after you got your offer.
Amazon Alexa
If you ask the Amazon Alexa device like Amazon Dot and Amazon Echo, that "Alexa what are the special deals", you can get access to prime Day deals with exclusive bargains. To order something via Alexa you need to say "Alexa what are your deals" followed by "Alexa add[item name]" to my cart, and Alexa will confirm this.
Deals of the day and Lighting deals
Amazon also provides the "Gold box deals of the day" as it is a prime day so these deals get sold out at a very faster pace. There will be new deals every day which includes the Lightning deals which are just for the limited period and sometimes gets the end in seconds. To stay on the top of this, use the Amazon mobile application where you can view the deals now and then in advance and sign up for the exclusive alerts.
Try Amazon Assistant
You can try using the Amazon Assistant, which is a browser plugin for Chrome, Internet Explorer, Safari, Edge, and Firefox. It is easy to install at free of cost. With the help of it, you can watch for price comparison which saves both the time and money and also notify you when there is a deal that you are waiting to live by its desktop notification feature.
Try CamelCamelCamel
If you want to check a deal's price that Amazon has charged in the past, then you can try using CamelCamelCamel.  It is a free Amazon price tracker tool which will track millions of products and will alert you when the price drops.
If there is anything that we have not listed for the Amazon prime day 2018, then just let us know in the comment below.
Image Credits: [IndiaTV]