An IT company has faced immediate reaction after posting a job requesting only white applicants with a disclaimer not to disclose that data.
A job for a business analyst was published on Indeed by Ashburn, Virginia-based Arthur Grand Technologies, an IT solutions company started in 2012. The post, however, also included a note: "Only Born US Citizens [White] who are local within 60 miles from Dallas, TX. [Don't share with candidates.]"
The firm, which offered a public apology, claimed that an ex-employee posted an unauthorized recruitment post that included racist language.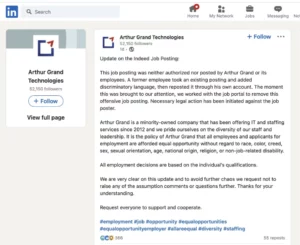 The job advertisement named Berkshire Hathaway and HTC Global as clients for the position of business analyst, whose duties might entail implementing Salesforce. Responses to inquiries from Arthur Grand Technologies, HTC Global, and Berkshire Hathaway were not instantly fulfilled. Salesforce decided not to respond.
Rage over the posting spread on Twitter and Reddit after it hit the internet.
"This is illegal and nauseating," one Redditor said of the situation. "We're sorry that a junior recruiter revealed our company culture," another Redditor said.
"Every minority who ever applied for a position with Arthur Grand Technologies and was denied employment needs to lawyer up," one person tweeted.
After deleting the recruitment posting, Arthur Grand reacted towards the backlash over its Linkedin profile.
"At Arthur Grand, we do not condone or engage in any type of discrimination based on race, color, or religion," the company initially said on LinkedIn. "We conducted an investigation and discovered that a new junior recruiter at our firm was responsible for the offending job posting. We have taken immediate action and terminated their employment for violating our policy."
The firm, which offers a variety of consulting and technology services, later took down the statement from its own LinkedIn profile and gave a separate reason, stating that neither Arthur Grand nor any of the company's workers had approved or published the recruitment posting.
"A former employee took an existing posting and added discriminatory language, then reposted it through his own account. The moment this was brought to our attention, we worked with the job portal to remove this offensive job posting. Necessary legal action has been initiated against the job poster," the company said in its latest statement on LinkedIn, adding that it's a "minority-owned company."
Employers are not permitted to promote a job that "shows a preference for or discourages someone from applying for a job because of his or her race," among other factors, according to the Equal Employment Opportunity Commission.