Mark Paulson, a 72-year-old retired commercial painter bought a bottle of wine in the late 1970s for $250. But unfortunately, the most prized wine stayed inside a cardboard box in his storeroom.
Paulson lived with his wife and his four children who grew up in their home in South San Francisco that they transformed into a tech-obsessed megalopolis of more than 7.5 million people. Even after doing so much, the wine bottle was left intact in the basement.
Paulson has decided to sell his Domaine de la Romanée-Conti La bottle of 1961 at auction. Bonhams Skinner, who is looking after the sale, estimated that the jeroboam which is a 3-liter bottle, also known as a double magnum will be sold between $50,000 and $80,000.
Louis Krieger, Bonhams Skinner's deputy director of fine wines stated that Domaine de la Romanée-Conti in the French region of Burgundy is "unequivocally one of, if not the greatest winery in the world". Experts believe that makes it the "purest expression of pinot noir."
This shows how the wine industry has evolved in the United States over the last 50 years, Krieger said. Americans didn't drink wine in the late 1970s. They chose liquor and beer instead of wine.
However, it started to change in the 1980s and 2000s. The interest in wine grew rapidly across the state where several investors bought themselves a wine not to drink but to make a profit.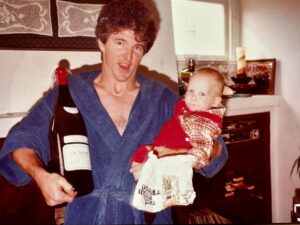 Paulson was born and raised in Panama and later moved to San Francisco in 1971 after helping in the Navy in Vietnam. While sitting in Golden Gate Park one day with a friend, he reconnected with some of his childhood pals. He was then introduced to a group of artists and musicians.
Paulson's new friends, including band members called the Flamin' Groovies, entered a wine-tasting group that was organized by Roger Brandt, a retired policeman who inherited a liquor shop from his father.
Roger introduced them to some of the best wines in the world and taught Paulson about them – '59 Latour, '61 Cos d'Estournel, '67 Suduiraut. With just one tasting they drank through a half-dozen Romanée-Conti vintages.
The wines were so delicious, things we'd never had before," Paulson said, adding that "there was an incredible amount of old wines around in those days. It was just amazing how many he had, and the prices were all reasonable."
After that, on a fine day, Brandt told Paulson that he was thinking of ordering some special wines and "kind of insisted" that he should lend out $250 to get the jeroboam of La Tâche because it was a "once-in-a-lifetime thing."
"I didn't even hesitate, because Roger had become a really good friend," he said.
That was when Paulson's journey of wine collection started. He had 10 cases of occasional and high-end wines, possessing the La Tâche. However, his journey ended pretty soon in 1977 when he got married to his wife. They had their first child, and over the years gave birth to three more, making it a happy family.
"I really stopped buying wines because as a painter, it wasn't enough money to drink high-end wines and raise four kids," he said.
From then, he started drinking all his collection but the La Tâche remained, mainly due to its size as Paulson said. He never found the perfect event for a jeroboam, which is composed of wine similar to four regular bottles of wine. Paulson kept it for his daughter's wedding as she was born in 1984.
"It's just been sitting downstairs in my basement for all these years," he said. "Never really thought that much about it."
Last year, his son informed him about La Tâche while chatting with a customer. The customer seemed interested in buying it in December. The customer offered $5000, which according to Paulson was way too low.
Later, when his son went online to research the actual value of the wine, he came across an article in "the drinks business", where he found Bonhams Skinner selling a 1971 La Tâche jeroboam for $81,250 in October.
"We were shocked. We were just, you know, flabbergasted, couldn't say anything. We just kind of hugged each other and smiled a lot," he said.
His son said, "Oh my God, Dad, you almost sold this thing for $5,000."
His son contacted Krieger, who led them to Bonhams Skinner's upcoming auction. The auction has five other bottles from the basement of Paulson that have vintage dates differing from 1795 to 1870. These are expected to trade for between $1,000 and $4,000 each.
Meanwhile, Paulson is hoping the La Tâche will go for more than $100,000. No matter how much the cost, he assured his son with a commission of at least $10, 000 and spent the rest of the money on house repairs and vacation if needed.
Even after the auction, Paulson will be still left with four bottles that Bonhams didn't take. He intends to drink at least one, pouring himself a sip when he "hears the big numbers." He is also planning to uncork his '59 Latour which amounts to more than $2000 a bottle.
However, Paulson isn't much of a wine person but a beer guy. His income through a commercial painter didn't permit him to keep such high-end wine bottles. Being a beer guy, his favorite is Lagunitas Brewing Company's Super Cluster IPA.