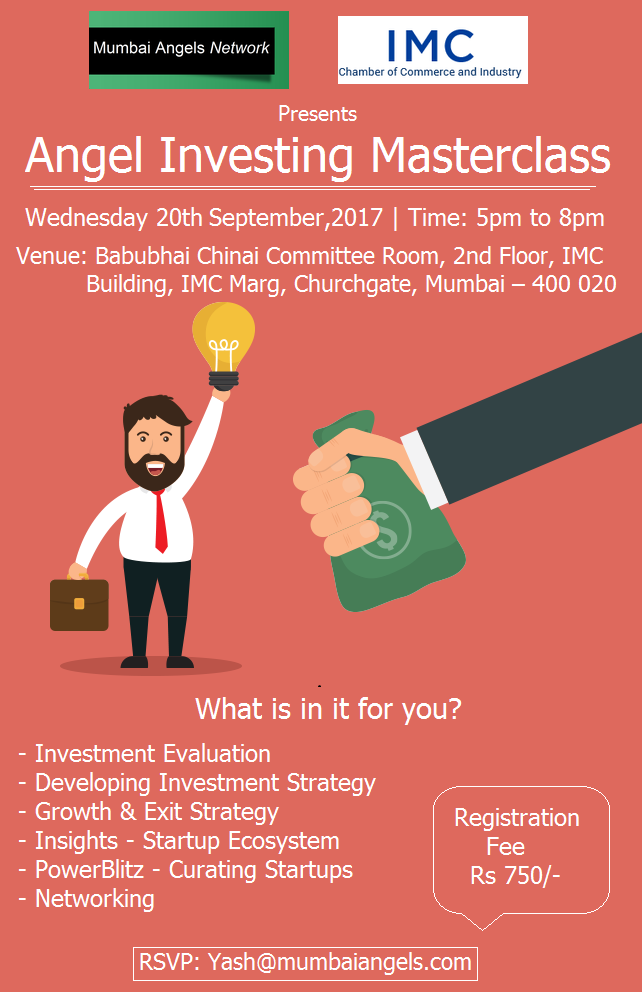 12 September 2017, India:
Angel Investing Masterclass (AIM) is an amalgamation of knowledge sharing, panel discussion, and startup pitching sessions. Serial entrepreneurs and Startup founders come together to share knowledge and their experiences.
The agenda is as follows-
Investment Evaluation
Developing Investment Strategy
Growth and Exit Strategy
Insights- Startup Ecosystem
PowerBlitz- Curating Startups
Networking
The Panelists-
Vikas Khemani – President & CEO, Edelweiss Securities Ltd. A Fellow Member of the Institute of Chartered Accountants of India and a Chartered Financial Analyst from CFA Institute, USA. Vikas is also member of the Edelweiss Management Committee and became the youngest member of this committee at the age of 30.
Vikas' views on the Indian capital markets are eagerly sought by the business media in India and Asia Pacific region. He also regularly contributes articles on capital markets, speaks in various forums and is an active angel investor, being the deal lead in MA's latest closed deal – The Parfait Co.
Sharmeen Indorewala – Founder, The Parfait Co. Sharmeen is the promoter of Mumbai-based French dessert maker, The Parfait Co, which recently raised an undisclosed amount of seed funding from Mumbai Angels Network.
Jeetu Panjabi – Global Equity Strategist, Angel Investor and Public Markets Investor.
Mumbai Angels Network started in 2006 is the first premium Angel network in India. The Mumbai Angels Network provides a unique platform to start up and very early stage companies by bringing them face to face with successful entrepreneurs, professionals and executives who are interested in and have the funds available to invest in start-up companies. Many members of Mumbai Angels Network have prior Silicon Valley experience. In addition to the capital of its members, the Mumbai Angels Network provides access to high quality mentoring, vast networks in India and abroad and inputs on strategy as well as execution.
Mumbai Angels Network provides its portfolio companies with a level of assistance that surpasses their highest expectations. Mumbai Angels network of relationships and their ability to leverage those relationships on behalf of their portfolio companies is unparalleled. Mumbai Angles Network members and their organisations have come to represent the ideal business partner for entrepreneurs who wish to start and grow a new company. Mumbai Angels portfolio companies are recognized as "best in class" leaders within their respective industries.
IMC Chamber of Commerce and Industry, popularly known as The IMC, is an organization which has relentlessly pursued the agenda of identifying opportunities, addressing critical issues and driving Indian businesses with the single minded focus of sustainable growth. Headquartered in Mumbai and a strong presence in Delhi, the Chamber has more than 3000 members, comprising a cross section of the business community. It plays an advocacy role on a wide range of matters and acting as an impetus to growth and development of businesses, on policy and implementation matters.
Where- Babubhai Chinai Committee room, 2nd Floor, IMC Building, IMC Marg, Churchgate, Mumbai- 400020
When- 20th September 2017, Wednesday
Time: 5pm to 8pm
Comments
comments